STE5EN'S SCIENCE FICTION and HORROR BOOK REVIEWS
To visit elsewhere at this site use this Navigation Bar
To read a review either scroll down or click on author's name
ASHER, NEAL
Gridlinked
Cowl
The Skinner
The Voyage Of The Sable Keech
The Line of Polity
Brass Man
Polity Agent
Line War

Prador Moon
Orbus
The Technician
The Departure
Zero Point
Jupiter War
Dark Intelligence

---
GRIDLINKED (2001)

Ian Cormac is gridlinked. Via implants he is connected to a system of computers and AIs that give him access to limitless information and enable him to perform as a superior agent for Earth Central Security.



His boss, Horace Blegg, a legendary 400 year old who is said to have survived Hiroshima, assigns Cormac to investigate the destruction of the runcible on the planet Samarkand. Runcibles are AI controlled structures that teleport people across the Galaxy. Blegg insists that Cormac disconnect from the grid in order to complete his assignment.
One of the reasons Blegg chose Cormac for this job is the contact he made some years before with the mysterious alien known as Dragon. Dragon is somehow linked to the happenings on Samarkand.
This was an enjoyable tale, peppered with blood thirsty terrorists, an insane android, mysterious aliens, that had its share of excitement, mystery and violence. Based on this effort I shall be on the lookout for further works by Asher.
Very Good (8.5)
May 2003

---
COWL (2004)

Polly is a teenage prostitute living in the not too distant future. When the brother of a friend gives her a small 'gift' she finds herself hunted by a group of well-armed government agents who will stop at nothing to get what they want.



One of these agents, Tack, unwittingly finds himself drawn out of this conflict and into another which could ultimately determine the future survival of the human race. Both he and Polly have become part of an experiment designed by a preterhuman known as Cowl, who is collecting people from different time periods to determine the progress of his time manipulation. Cowl uses a 'pet' to choose experimental subjects. This pet (actually monster) devours everything in its path before making its choice of time subject.
Cowl is the product of extreme genetic manipulation performed by a member of future humanity, a humanity which itself is superior to our own due to its own genetic modification. These superhumans have split into two groups, Heliothane and Umbrathane, which wage war on each other while the Umbrathane have thrown their support behind Cowl.
Asher has written a non-stop thriller that transports the reader through different periods of time culminating in a frenetic battle that may determine the existence of life itself.
Very Good (9)
March 2005

---
THE SKINNER (2000)

I started this book after reading Reynolds PUSHING ICE and was worried that the joy experienced with that work would be hard to replicate. I was wrong. THE SKINNER is a fantastic read.



Three travellers arrive at the planet Spatterjay, each with a hidden agenda. Erlin is a former inhabitant of the planet, returning after a long absence to reconnect with a former lover. Janer was formerly indentured to a Hive mind – hornets turned out to be the other major intelligence on Earth – but now he works for them by choice. The last of the three is Keech, who is seven hundred years old, but has been dead for most of this time, who hopes to conclude a search that has lasted all this time.
Spatterjay is a mostly aquatic planet, teaming with hostile native fauna. If bitten by one of its many leeches, you become infected with a virus that keeps you alive no matter what damage befalls you. The leeches want to keep their food supply around for as long as possible.
If he wasn't before, he is now on my must read list. In fact I picked up his latest book, THE VOYAGE OF THE SABLE KEECH, before finishing THE SKINNER. Can't wait to get into it!
PS. I'm listing to THE BLACK KEYS "Rubber Factory" while writing this review and it's great stuff!
Excellent (9)
August 2006

---
THE VOYAGE OF THE SABLE KEECH (2006)

This book returns us to the planet of Spatterjay ten years after the events written of in The Skinner. After the resurrection of Keech, pilgrims travel to the planet to try and emulate his success. One reification, Taylor Bloc, has a massive ship built in Keech's honour in which he plans to transport others of his kind to the Little Flint. Bloc will do almost anything to achieve his aims, including using Prador thrall technology.

Vrell manages to find his way back to his father's spaceship and begins to prepare for his return to his home planet. Spatterjay leaves its mark on him however and his kind is not ready to welcome him back.

While not as good as the original THE SKINNER, this is still a very good sequel.

Very Good (8)

January 2007

---
THE LINE OF POLITY (2003)

Set in the same Universe as Asher's GRIDLINKED, Ian Cormac, Scar, Gant et al are back to first liberate a planet ruled by religious nutters and then to stop a madman using alien biotechnology that threatens humanity. They end up at the planet Masada. An inhospitable place populated by monsters such as hooders, one of which caused havoc in GRIDLINKED.



The team also crosses paths with Dragon, or one of its siblings.
This is another very entertaining story that helps keep Asher on my must read list.
Very Good (9)
May 2008

---
BRASS MAN (2005)

Skellor still lives. Ian Cormac and the Polity AI's set out to destroy him once and for all.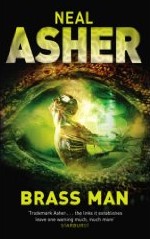 Skellor believes Dragon may hold some answers to controlling the Jain tech that is trying to consume him. After resurrecting Mr Crane, the brass man, he sets out to find it, reeking havoc as he goes.
I can always count on Asher reigniting my desire to read. Thanks Neal.
Excellent (10)
January 2009

---
POLITY AGENT (2006)

Skellor is no more, but there are others who may potentially take his place. Someone or something is distributing Jain nodes in the hope of destroying the Polity.

In this outing, Asher explores the origins of Horace Blegg, reunites two Dragon spheres and details the plans of rogue AI's.

While not as good as BRASS MAN, this book is a worthy sequel that picked up the pace in the later quarter.

Very Good(8.5)

February 2009

---
LINE WAR (2008)

Rogue AI's are at war with the Polity.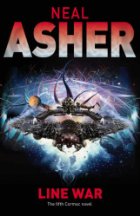 Orlandine further develops her skill with Jain tech and forms an alliance with a group of forgotten Polity war drones.
Cormac continues to distrust Earth Central.
Dragon takes Mika to the origin of Jain tech.
Mr. Crane is one of the good guys.
A must read, but only after reading the previous Cormac novels.
Excellent (10)
April 2009
---
PRADOR MOON (2006)

A good short novel about our first contact with the vicious Prador. Character development didn't take centre stage, but fighting crabs was enjoyable.

Good (8)

June 2009
---
ORBUS (2009)

Orbus is an Old Captain infected with the Spatterjay virus and a survivor of the equally infected Prador Vrell. He has been hired to travel with Polity drones Sniper and Thirteen to retrieve an item from the Graveyard, the no-mans-land between Human and Prador territory.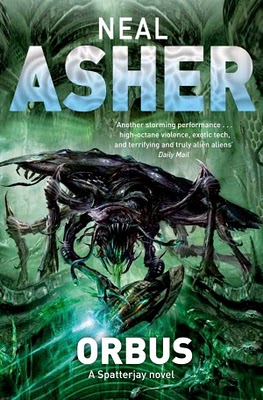 Vrell has escaped Spatterjay and is intent on extracting vengeance on Vrost and any other Prador who want him dead.
A highly entertaining read full of excitement. Plenty of Prador action with both King Oberon and the Golgoloth making themselves known to all. The Jain become involved and pose a threat to both Prador and Human survival.
Excellent (10)
December 2010
---
THE TECHNICIAN (2010)

The Theocracy that ruled the planet Masada has fallen and the Polity is helping to establish order. They also have an interest in Jeremiah Tombs, a Proctor for the Theocracy who is the only survivor of a Hooder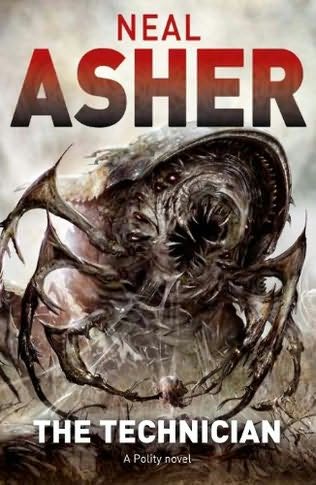 attack. The Technician is the name of the Hooder that consumed Tombs, stripped him of his face and flesh and implanted something inside his brain. For 20 years the Polity has waited for the information which they believe will provide insight into the extinct Atheter race.
A must read for those who've read Asher's previous works. In ORBUS we learn more about the Jain, now it's the turn of the Atheter.
Excellent (9)
January 2011
---
THE DEPARTURE (2011)

This is the first book in Asher's Owner trilogy. Earth is overpopulated, under resourced and ruled by a world-wide dictatorship. The ruling elite have been experimenting on its people and one has escaped. Much destruction soon follows.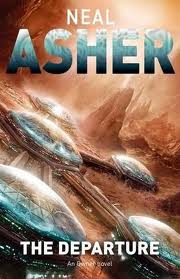 A small space colony has been established on Mars, but due to the crisis on Earth, any support for it is about to be stopped.
I enjoyed the story, but wouldn't rate it as one of Asher's best.
Good (7.5)
January 2012
---
ZERO POINT (2013)

Book 2 of the Owner trilogy sees Saul further develop his abilities and new technologies that may help him escape those on Earth who would see him dead.

Serene Galahad has assumed power on Earth and has plans for the rebirth of her planet. She doesn't care at what cost.

Var and the colony on Mars need Saul's help.

This wasn't a bad follow-up. A number of exciting encounters kept me interested, but still not one of my favourite Asher efforts. I will read the concluding story.

Good (7.5)

September 2013
---
JUPITER WAR (2014)

The third instalment of the Owner series sees all loose ends tied up, but didn't really add anything to the story. The first book was the best while those that followed seemed to milk the initial idea. I long for a stand-alone novel that begins and ends in one volume.

Good (7)

June 2014
---
DARK INTELLIGENCE (2015)

This book revolves around the rogue AI, Penny Royal, who has been the cause of much death and destruction. It is also responsible for the confused memories of resurrected soldier Thorvald Spear and the physical transformation of criminal Isobel Satomi. Both of these individuals intend to destroy the AI at their earliest convenience.

Father - Captain Sverl, one of a number of Prador unhappy with the Prador Kingdom's decision to stop the war with humanity, also has an interest in Penny Royal. He too is undergoing a transformation that his fellow Prador find abhorrent.

The planet Masada, recently liberated and now protected by the Polity, is central to the story. Hooders and Gabbleduck show themselves in what is, once again, a very entertaining tale. I'm very happy Asher has returned us to this Universe.

Very Good (9)

April 2015
To visit elsewhere at this site use this Navigation Bar