STE5EN'S SCIENCE FICTION and HORROR BOOK REVIEWS
To visit elsewhere at this site use this Navigation Bar
To read a review either scroll down or click on author's name
BAXTER, STEPHEN
Ring
Raft
The Time Ships
Titan
Moonseed

Time
Timelike Infinity
Flux
Vacuum Diagrams
---
RING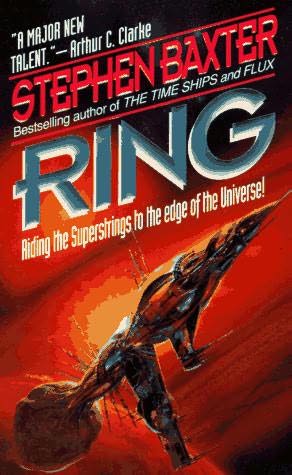 Picked this book up by chance in the local library and I at once became a fan. Multi-layered story culminating in the end of our Universe. A lot of science/physics explaining various theories and possibilties. You don't need to be a Physics professor to enjoy it however.
Excellent and highly recommended. (10)

Tribute site www.sam.math.ethz.ch/%7Epkeller/Baxter-Page.html
Tribute site www.cix.co.uk/~sjbradshaw/baxterium/baxterium.html

---
RAFT
Another excellent story from Baxter. Story revolves around humans living on 'platforms' drifting in space in a universe with extremely strong gravitational forces.
Excellent (9)


---
THE TIME SHIPS
I can still clearly recall some of the wonderful images in this story. A very busy book and a superb sequel to H.G.Wells THE TIME MACHINE. Our time travellers move from one extreme of time to another with never a dull moment.
Excellent. (9)

---
TITAN
Early in the 21st Century, enthusiasm for space flight and exploration is at its lowest. A second shuttle disaster almost puts the final nail in the coffin. A small group of enthusiasts plan one final adventure - they want to travel to Titan, a moon of Saturn where a recent probe has found signs of life.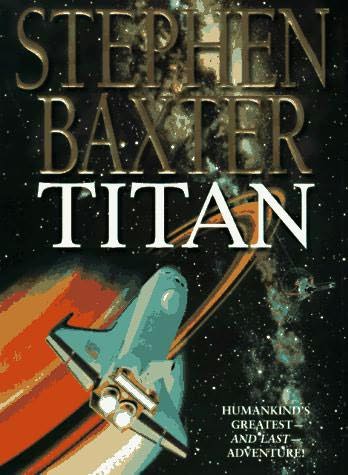 I found the story quite slow to begin with and almost gave it up. It wasn't until after the first 200 pages that things began to improve. The next 380 some pages were a pleasure. Once the Titan expedition got underway things began to happen. The flight itself and the difficulties experienced by the crew were absorbing. The political turmoil and scheming on Earth and its consequences were intriguing. The description of life on Titan and the hardships faced by the humans was believable and sometimes gruesome.
For those who enjoy 'hard' sf, put this on your list. The ending was a little out of character with the rest of the story however. It did provide an interesting and unexpected ending.
Very Good (8)

---
MOONSEED
Another tale set around the turn of the 20th Century. This time the Earth is under threat from a 'bug' transported to the Earth from the Moon in a rock sample collected during an Apollo mission in the early seventies. This "Moonseed", as it becomes known, begins transforming the rock and soil it comes in contact with. Henry Meacher is the geologist responsible for the initial research of the Moonseed and his struggle to stop its progress of destruction leads him on a trip to the Moon.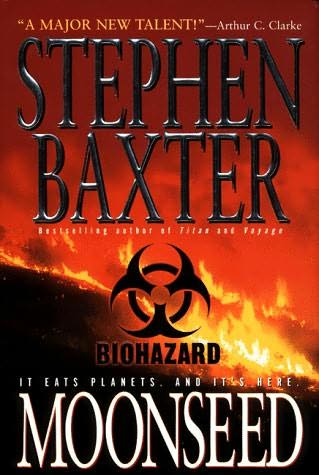 Like TITAN before it, MOONSEED depicts a near future where space exploration and technology has stagnated due to political and economic pressures. Both books argue for the need for change, especially in the light of the threat we may face from the stars.
MOONSEED is a tale of disaster. We are given graphic depictions of volcanic eruptions and fire storms that devastate the surface of our planet. This is done via a number of characters who struggle to exist as the Earth changes around them.
I feel that both TITAN and MOONSEED could have benefited from tighter editing. Rather than being both good books they could have been great. Baxter continues to educate us on the rigours of toileting in space - thank goodness for gravity.
Very Good (8.5)

---
TIME (1999)
Reid Malenfant is unhappy with the current space program, such as it is, headed by NASA. He believes Man should return to the stars and make a profit at the same time. Malenfant puts together a space program of his own, Bootstrap, funded by investors, and builds a ship from NASA spare-parts.



Cornelius Taine is a brilliant mathematician, who heads a group known as Eschatology, Inc. He believes that the world will come to an end in about 200 years time. He convinces Malenfant that future humans, aware of the Earth's coming demise, would surely find a way to send a message back to warn humanity.
The collaboration between Malenfant and Taine results in a change in destination for Bootstrap.
I found it took me a while to get into this story. Once I sat down and gave it a good go, however, the story started to take hold. It is similar to some other recent Baxter efforts in that he expresses his displeasure with NASA's efforts with its space program. This time an individual who holds onto the dream shows the big boys how things could/should be done.
There is much here to keep the reader entertained; genetically enhanced squid, travels to alternative Universes and possible futures, super-intelligent children who terrify adults with their ability. There is quite a bit of theoretical physics explained within the story. If you get lost, don't worry, so do some of Baxter's characters. Another very satisfying hard sf effort from one of my favourite authors.
Very Good (9)
March 2000

---
TIMELIKE INFINITY (1993)
The alien Qax have conquered humanity and have denied them much of their technology. Jarsoft Parz acts as ambassador between man and Qax.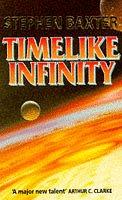 Some 1500 years before, Michael Poole helped to develop wormhole technology. His project involved the placement of a wormhole portal near Jupiter while a second was taken out system to return 1500 years later. The idea being that this will result in a wormhole that will enable travel through time.
On the arrival of this second portal, a rebel group of humans manage to escape via the portal. The Qax enlist the help of Parz to help stop any alteration to time the rebels might initiate.
Like other works of Baxter's, we get a fair helping of Physics in this story, particularly quantum. Interesting aliens and theories of the Universe are in plentiful supply. This is the sort of novel that attracted me to Baxter, another in his Xeelee Universe.
Very Good (8)
July 2000

---
FLUX (1993)
Set in Baxter's Xeelee sequence, this is the story of the microscopic inhabitants of a neutron star. For purposes explained in the story, human constructs have been designed to live within the harsh environment of a neutron star. These constructs are unaware of their purpose, but are fully aware of their origins.
The star is experiencing instability which is wreaking havoc upon a small group of inhabitants of the upper reaches of the star. These "upfluxers" refer to themselves as Human Beings and live a life floating in the Air of the upflux, attaching themselves and their meagre possessions to a flimsy net. When an instability, or Glitch, destroys the net the upfluxers are forced to seek refuge elsewhere within the star. So begins a journey of discovery for a trio of ignorant primitives.
I found this book took me a while to get into and thought about giving up on it, a first for a work of Baxter's. I did persist however and while it doesn't rate as a favourite, it is a worthwhile addition to Baxter's Xeelee saga.
Good (7.5)
June 2002

BAXTER, STEPHEN
---
VACUUM DIAGRAMS (1997)

Once you've finished reading Baxter's novels set in the Xeelee Universe, then you must read this collection of short stories. We learn more about mankind's enemies, the Squeem and the Qax, and the workings of the all-powerful Xeelee. I've said it before, but these are the kind of stories that attracted me to Baxter in the first place.

Excellent (9.5)

October 2004

To visit elsewhere at this site use this Navigation Bar