STE5EN'S SCIENCE FICTION and HORROR BOOK REVIEWS
To visit elsewhere at this site use this Navigation Bar
To read a review either scroll down or click on author's name
BEAR, GREG
The Forge Of God
Anvil Of Stars
Queen Of Angels
Dinosaur Summer
Darwin's Radio

Eon
Eternity
Darwin's Children
Blood Music
Dead Lines
---
THE FORGE OF GOD

(Belated review)

This was the first book of Bear's that I read and it didn't quite deliver. The story of an alien attack on Earth begins well with the mysterious appearance of alien objects that seem to have no purpose. Close investigation of these objects fails to shed any light. Very soon the entire planet comes under attack and there appears to be nothing mankind can do.

On finishing this book, I was disappointed that neither the aliens nor their motives were revealed.

Good (7 )


Author site www.gregbear.com/gregbear/bear.nsf

---
ANVIL OF STARS

(Belated review)

I thought this sequel to THE FORGE OF GOD may shed some light on the alien attackers of Earth, but sadly all I got was a long winded chase of said aliens across the Galaxy. These aliens have attacked other planets before hitting Earth and a group of vengeful beings assist in mankind's hunt for the attackers.

Average (5)

---
QUEEN OF ANGELS

Set in the year 2048, the story involves essentially two plot lines.

Emmanuel Goldsmith has murdered a number of people for no apparent reason. Public Defender Mary Choy has been given the task of finding him. Martin Burke has been hired by the father of one of the victims to find out why his daughter was slain, and Richard Fettle, friend and neighbour of Goldsmith, tries to come to terms with events.



While this is going on, an artificial intelligence, AXIS, has been sent to Alpha Centauri in a scientific probe to search for signs of life. At the same time, a similar intelligence on Earth known as Jill is used to predict AXIS' response to various situations while in deep space. One of the goals of the designers of both AXIS and Jill is to move them closer to their own self-awareness.
This story was laden with nanotechnology. Some of the uses nanotech has been put to include transforming ones appearance, correcting defects in criminals, probing peoples minds, preparation of meals and creation of pieces of art.
I found the book didn't really hit its straps until the last hundred pages or so. From this point on all plot lines gathered momentum and moved to a satisfying climax. I'm only disappointed it took so long to get there.
The conclusion was satisfying enough for me to encourage the reading of the sequel SLANT.
Good (7)

---
DINOSAUR SUMMER (1998)

I've yet to read a book by Bear that has impressed me from start to finish.

The story is set in the early 1900's and revolves around the world's last dinosaur circus. Dinosaurs were discovered some 30 years ago in South America and since that time people have lost interest in them. The owner of the circus decides to close up shop and return his small number of beasts to their home.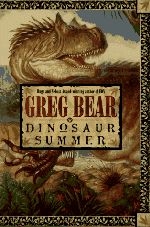 I found the first 200 pages slow going. It wasn't until after this point, when the dinosaurs had been released, that things started to get entertaining. The two central characters are Anthony, a photographer recently returned from the war with a drinking problem, and his son Peter. The story is told from Peter's viewpoint and by story's end we see him mature into a more confident young man.
The last 160 pages were worth reading, but I wish Bear had made the first two thirds of the book as enjoyable.
Good (6)
March 2000

---
DARWINíS RADIO (1999)

Kaye Lang is a biologist who has been studying the junk genes within our DNA. Mitch Rafelson is a palaeontologist who has discovered ancient mummified human remains in the Austrian Alps. Christopher Dicken is a virus hunter, tracking down disease in order to combat it. These three characters try to solve the mystery surrounding a strange new flu that targets women of child-bearing age.


Iíve finally come across a book by Greg Bear that I thoroughly enjoyed from start to finish. This was a non-stop roller-coaster ride. Plenty of political manoeuvring amongst certain characters, large doses of biological postulating (that may confuse some readers) and even some love interest.
Excellent (10)
February 2001

---
EON (1985)

This is the book I should have read years ago. After being disappointed a number of times by Bearís work, Iíve now read two that stamp him as one of the best. First DARWINíS RADIO and now EON, two books I wouldnít hesitate to recommend.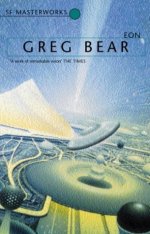 EON has at its focus a large asteroid that has suddenly found itself in orbit around the Earth during the early 21st Century. A joint European-Nth. American expedition travels to the Stone to study it. They find that there are a number of hollows within.
The USSR (this book is a little out of date with the current political situation in Russia) is not happy with being kept in the dark. They remain behind the West both economically and scientifically and the presence of the Stone further fuels hostilities between East and West.
I wonít tell you what is found on the Stone, only that this story has it all, from alternate universes, downloaded copies of humans, waring aliens and a plethora of other delights to keep you entertained. The early exploration of the Stone was reminiscent of Clarkeís RENDEZVOUS WITH RAMA and just as captivating.
Iím looking forward to the sequel, ETERNITY.
Very Good (9.5)
July 2001

---
ETERNITY (1989)

This is a very satisfying sequel to Bear's EON. The book follows on immediately from the conclusion of EON. We follow the life of Patricia on her return to 'Earth' where life turns out differently than she expected. Her granddaughter, Rhita, is the unwilling inheritor of the Objects Patricia brought with her from the Way.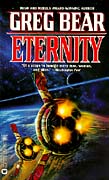 The Hexamon is helping with the Recovery of the Earth and not all of its inhabitants are happy with this support. For 40 years, Garry Lanier has worked hard as a liaison between the population of Earth and that of its orbiting precincts, the Stone included. Some factions within the Hexamon have grown tired of playing a supporting role and long for the past and life in the Way.
The Jarts remain busy both in the Way and on the Stone. Their purpose is explained in this story and they remain a formidable foe.
I found the early account of Rhita's life less interesting that the storyline elsewhere and looked forward to the end of those chapters. Later, I couldn't wait to get back to her pursuits as her life intersected with the Way. There are many joys in this book and if you enjoyed EON you will enjoy ETERNITY.
Very Good (9.5)
September 2001

---
DARWINíS CHILDREN (2003)

This sequel to DARWINíS RADIO picks up the story 12 years later. All the old characters are back, but now the focus is on Kayeís daughter, Stella, who is a virus child and the other children born at the time of the epidemic. These children have the ability to use odour/pheromones to communicate and influence behaviour and their differences have a lot of people worried. Most children have been placed in special Ďschoolsí where they can be observed and kept away from the general population.

When the virus children begin getting very sick, panic sets in and politicians and scientists take steps to further isolate and Ďdealí with these children.

I wanted to like this book as much as the first but somewhere towards the end I knew that wasnít to be. It didnít have the freshness and excitement of the original and some of the science got in the way.

Very Good (8.5)

March 2004

---
BLOOD MUSIC (1985)

I remember reading the Hugo Award winning short story years ago, but enjoyed the novel much more.

Vergil Ulam is a scientist working at Genetron and has been caught carrying out some illegal/unauthorised experiments on the side. When he is given his marching orders he ingests his experimental cells, hoping to retrieve them at a later date and continue his work.

His body begins to undergo changes that concern both him and those he meets.

Very Good (9)

July 2004


BEAR, GREG
---
DEAD LINES (2004)

This may be Greg Bearís first horror novel, Iím not sure as I havenít looked into it, and based on this effort I think he should stick to SF. A new type of phone system has awakened spirits who begin haunting the general public. Throw in a mass murderer, the death of a child, a broken marriage and youíve got the major elements of the story. Bear had a habit of repeating himself throughout the story which became quite annoying. In Bearís favour, I did finish the story and wanted to see what transpired, but when compared to other horror authors, this work is left for dead.

Good (7.5)

October 2004


To visit elsewhere at this site use this Navigation Bar