STE5EN'S SCIENCE FICTION and HORROR BOOK REVIEWS
To visit elsewhere at this site use this Navigation Bar
To read a review either scroll down or click on author's name
ADAMS, DOUGLAS
Hitchhikers Guide To The Galaxy
Dirk Gently's Holistic Detective Agency
The Long Dark Tea-Time Of The Soul
ANDERSON, POUL
Tau Zero


ASARO, CATHERINE
Primary Inversion
Catch The Lightning

ASHER, NEAL


ASIMOV, ISAAC


ATWOOD, MARGARET
Oryx and Crake

ADAMS, DOUGLAS
---
HITCHHIKERS GUIDE TO THE GALAXY

A must read for any reader of science fiction. Takes the micky out of the genre, but it's a good story to boot.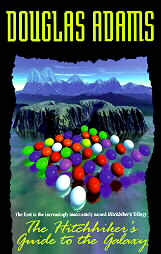 The Earth is destroyed by aliens and we follow the journey of the 'last' surviving human. Lots of strange and wonderful characters.
Excellent and highly recommended (10)

Author site douglasadams.com

ADAMS, DOUGLAS
---
SEQUELS TO HITCHHIKER

Get them, read them. The fourth book in the trilogy wasn't quite up to standard.


ADAMS, DOUGLAS
---
DIRK GENTLY'S HOLISTIC DETECTIVE AGENCY

(Belated review)

Read this quite a while ago and have forgotten most of the details. Story centres on a ghost who is trying to solve his own murder along with a link to aliens. If you enjoyed HITCHHIKER then you'll enjoy this.

Excellent (10)


ADAMS, DOUGLAS
---
THE LONG LOST TEA-TIME OF THE SOUL

(Belated review)

Story of Thor and other Norse Gods and the role they play in today's society. Had promise but never quite delivered.

Average (5.5)

---
TAU ZERO (1971)

This was a very short novel at around 180 pages that falls into the hard sf category. A crew of fifty scientists, engineers, technicians etc set off to colonise a new world recently discovered some light years away from Earth. As they travel, their Bussard engine scoops up hydrogen ions drifting in space enabling the ship to travel faster and faster, eventually approaching the speed of light. Before reaching their destination, the ship passes through an interstellar cloud that damages the ship making it impossible to slow down.

While I'd classify myself a fan of hard sf, this story didn't quite make the grade. The characters were not particularly likeable or engaging and played a secondary role thoughout.

Good (6)

February 2000

---
PRIMARY INVERSION

The owner of a local science fiction bookstore recommended this author to me. After reading the novel I shall make sure I listen to her advice more closely in the future.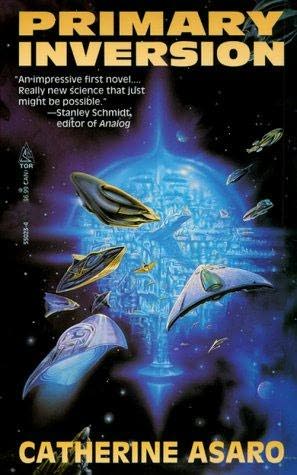 Soz Valdoria is a member of a crack troop of pilots who help in the war against the Traders. They can link together using psibernetics - computer enhanced telepathy. Soz herself is a member of the First Family of the Skolian Empire. She and her family have the genetically derived power to maintain the galaxy spanning Skol-Net that enables instantaneous communication.
The Traders are an evil race of humans who imprison telepaths and derive pleasure from the pain that they inflict upon them.
We follow the journey of Soz as she wages battle against the Traders and eventually finds herself in a situation that may cost her her rightful place as the next Imperator of the Skolian Empire.
I look forward to returning to the universe created here by Asaro. This is a first novel that promises much. I have to admit however that I was forced to cringe at one particular line in the novel. The story had its far share of love interest, but I could have done without the following; "I wanted him to come upstairs and keep me company, real company, the way a man could help a woman hold the night at bay." One off note in an otherwise very entertaining and enjoyable tale.
Very Good (9)

Author site www.catherineasaro.net

ASARO, CATHERINE
---
CATCH THE LIGHTNING

Tina Pulivok is living in Los Angeles after moving from South America. She is descended from the ancient Mayans and now lives alone in a violent and run down part of town. She meets a strange man while walking home one night from the bus station.

He is Althor, a member of the Imperial Skolian Command on his way to an important meeting in Washington. Unfortunately his starship is not only lost in space but also time. He has travelled into the past to an Earth that belongs to an alternative universe. Althor's ship is damaged and when it is captured by the Federated States of America, he seeks Tina's help.

Their journey sees them escaping Earth and returning to Althor's universe. Unfortunately, they are not out of trouble as they discover a plot to hand them over to the Traders.

Another good story set in the same universe as PRIMARY INVERSION. Once again the tale centres on the love interest of the two central characters with lots of intrigue and drama thrown in. I felt that a little too much of this tale focussed on the romance aspect.

Very Good (8)

November 1999

---
The first science fiction I ever read was Asimov's. The FOUNDATION trilogy was on the shelves with the covers that form a picture when placed side by side. This gimmick worked and I'm glad.
It's been a long time since I've read his early work so the details of his novels are a little sketchy.
FOUNDATION, FOUNDATION AND EMPIRE and SECOND FOUNDATION are a must read. Once you become a fan then you will read the rest without question. I particularly enjoyed PRELUDE TO FOUNDATION while FORWARD THE FOUNDATION ( the last of Asimov's work ) was a slight disappointment.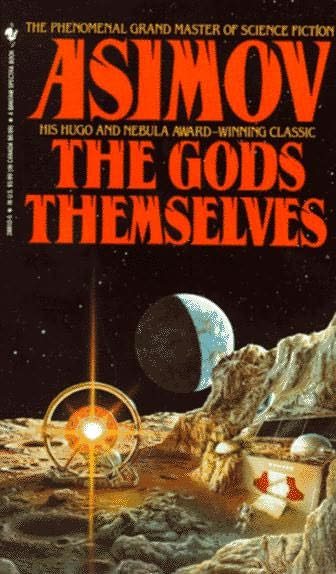 I,ROBOT and THE REST OF THE ROBOTS are short story collections that are well worth reading.
One of my favourite novels is THE GODS THEMSELVES. I remember a parallel universe inhabited by beings of light.
THE CAVES OF STEEL and THE NAKED SUN were both excellent detective style stories set in a future in which robots play an essential part.
I've read these and others a number of times and will do so again - once I've caught up on my reading!

---
ORYX AND CRAKE (2003)

Similar story to I AM LEGEND where one man seems to have survived the extinction of mankind. Snowman is the last of his kind. He lives near a group of genetically modified people who have had a lot of their 'humanity' spliced out of their code.

Snowman recounts his life before the catastrophe and his time with Oryx and Crake, his best friends.

Found the ending a little disappointing. Rather than end, it stopped.

Good (7)

November 2008




Navigation Bar