STE5EN'S SCIENCE FICTION and HORROR BOOK REVIEWS
To visit elsewhere at this site use this Navigation Bar
To read a review either scroll down or click on author's name
BACIGALUPI, PAOLO
The Windup Girl




BAIRD, WILHELMINA
Crashcourse




BALLARD, J.G.
Crash




BANKS, IAIN M.
Feersum Endjinn
The Wasp Factory
The Player Of Games
The Bridge
Consider Phlebas
BARNES, JOHN
A Million Open Doors




BARKER, CLIVE
The Thief Of Always
The Damnation Game
Weaveworld
Cabal

BAXTER, STEPHEN
---
THE WINDUP GIRL (2009)

Set in a future Bangkok that is surrounded by a sea wall that has kept out the rising sea level caused by climate change.

Fossils fuels are no longer used. Computers a hooked up to treadmills to keep them running. Genetic modification of foods has led to plagues that have destroyed crops as well as infected humans.

The Japanese suffer with low birth numbers and have built New People to help manage. They have been genetically modified and are used as servants. One such has ended up in Bangkok where she is made to work in a brothel.

Very enjoyable from the outset. Different setting to a lot that I have read recently. Coincidental that, as I write, Bangkok is suffering heavy flooding. The degradation that the Windup Girl suffers is atrocious and can be heavy going – not recommended for younger readers.

Very Good (8.5)

January 2012
---
CRASHCOURSE

Cass is a thief living with Moke, a struggling artist, and Dosh, a male prostitute. They exist at the lower levels of society, struggling to earn enough money to escape their squalor and emigrate to an off-world destination that may offer more hope. In a desperate attempt to achieve their goal they sign a movie contract which promises huge rewards. Their problem is they don't know what the movie is about, when it is being filmed and that their chances of surviving it are quite slim.

I had difficulty at the start of the book coming to grips with the narrative style. At times I thought about giving the rest of the story a miss, but I persisted and while the writing style continued to challenge, the effort was worth it in the end.

Good (7.5)

---
CRASH

A man becomes obsessed with cars, car crashes and sex in cars after experiencing a crash of his own. Every encounter with humans or man-made structures was discussed in terms of sex with it, on it or in it. This got a little too much after a while. The characters had no likeable characteristics and after reading about half of the story I gave up!

Unpleasant (1)


BANKS, IAIN M.
---
FEERSUM ENDJINN

I became a fan on reading this book and would read anything by Banks as a result. Set in the future where 'real' life and computer reality mix in an effort to save the Earth from destruction.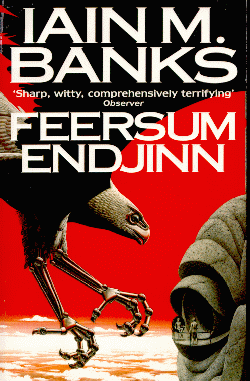 Excellent and highly recommended (10)




BANKS, IAIN M.
---
THE WASP FACTORY



I'm not sure how to comment on this book. I'm glad I read it and therefore I suppose I'd recommend it. Story about a strange family and the pursuits of one particular child who gets up to some strange and sick exploits.

Very good ( I think ? ) (7.5)




BANKS, IAIN M.
---
THE PLAYER OF GAMES

This was the first Culture story that I read and it wasn't quite what I had hoped for. From the reviews I've read on the net it is possibly the weakest of the Culture stories.

A game player living in the Culture is sent to a newly discovered Empire in a distant Galaxy. This Empire has been built around a game that the player has had to learn during the two year journey to the planet. He attempts to play the game against the wishes of some of the locals.

As in all the Banks work I've read, there are aspects hidden from the reader until the very end.

Good (7)



BANKS, IAIN
---
THE BRIDGE

A man falls into a coma after a serious car accident. We see the struggle of his escape from this coma via his dreams and the recounting of his life. Very funny in parts and always enjoyable. In some chapters, Banks uses the technique of phonetic writing that he used in his later work FEERSUM ENDJINN. While still not easy to read, I still looked forward to it and the character it applied to.

Excellent (9.5)


BANKS, IAIN M.
---
CONSIDER PHLEBAS ( 1987)

Horza is a Changer. His kind has been genetically modified so that they can slowly change their humanoid appearance to that of their choosing. Horza is currently working for the Idirans, an alien race that is determined to defeat the Culture. The Culture is made up of humanity, in its many forms, and sentient machines and it is the reliance on machines that has convinced Horza to side with the Idirans.



A young Mind, the 'soul' of one of the Culture's spaceships, has escaped the destruction of its factory craft. It has eluded the Idirans and made its way inside a planet, Schar's World, which both the Culture and the Idirans have limited access to. Schar's World's humanoid population destroyed itself in a war many centuries before. A mysterious alien race, the Dra'Azon, preserve such planets from external interference. The Idirans want Horza to go to Schar's World, where he has worked before as part of a Changer team allowed to set up a limited base, and capture the Mind.
This is the first book in Banks' Culture series and it provides plenty of incentive for further exploration. A rollicking Space Opera that has the reader visiting many interesting locales with many unexpected plot twists and plenty of excitement.
Very Good (8.5)
October 2001

BARNES, JOHN
---
A MILLION OPEN DOORS (1992)

This is a story of the clash of two disparate cultures. Instantaneous travel between worlds via a "springer" means that once isolated cultures have to adjust to the complexity of the rest of mankind. Giraut is a carefree young man living a hedonistic existence, but due to social circumstances, finds himself springing to a planet with a more repressive lifestyle.

If you liked Le Guin's THE DISPOSSESSED then this is the novel for you. I was reminded constantly of that work while reading Barnes' story. I was disappointed with this outing and hope it is not representative of the rest of Barnes' work.

Good (6)

February 2001


BARKER, CLIVE
---
THE THIEF OF ALWAYS

A boy is lured to a strange house where all his wishes are granted. An evil presence within the house does not allow him or any other children to leave without a fight.

Excellent (9)


Author site www.clivebarker.com/


BARKER, CLIVE
---
THE DAMNATION GAME

Marty Strauss is offered an early release from prison where he is doing time for robbery. His job will be to protect Joseph Whitehead, one of the richest men in Europe. Unbeknownst to Marty, Whitehead achieved his status with the help of a very strange and evil accomplice known as Mamoulian. Mamoulian has power over life and death and uses this power to further his own ends.

An excellent story that didn't let up until the final page. This is the second book of Barker's I've read and it is further proof of his talent. There is a particularly gruesome account of the degeneration of one of Mamoulian's resurrected henchmen that will stay with me for some time. Loved it.

Excellent and highly recommended (10)


BARKER, CLIVE
---
WEAVEWORLD (1987)

Cal and Suzanna become involved in a world previously unknown to them. It is a world hidden in the weave of a carpet. A sleeping world of magic and the fantastic which has been hidden away from the Scourge, an evil power bent on destruction.

With the assistance of a small group of inhabitants of the Weaveworld, Cal and Suzanna try to save it from those who would see it destroyed.

This is another fine effort from Barker. Not being a fan of fantasy, sections of this story fell out of favour with me. There is a fair dose of magic and typical fantasy elements that sour what would otherwise have earned an excellent review on my part. The horror elements are typically brilliantly done and suspense is maintained throughout. A book for those who don't mind a little fantasy mixed in with their horror.

Very Good (8)

April 2001


BARKER, CLIVE
---
CABAL (1999)

Boone is a man haunted by the terrible deeds he can't remember committing. His psychiatrist, Dr. Decker, is torn between helping Boone and turning him over to the police.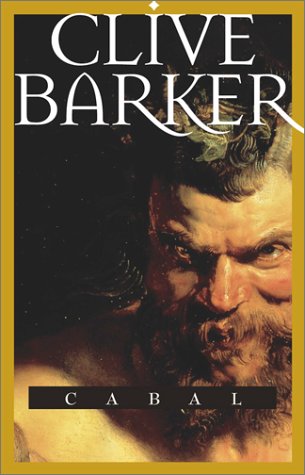 Boone finds himself in the town of Midian, a place sought after by a fellow 'nutter', a place that will accept those who belong nowhere else. Midian is home to the Nightbreed.
CABAL is a quick (250 pages) read that will please readers of horror. Not for the squeamish, this tale has its share of gore, zombies and a sick mass murderer. Clive Barker has yet to disappoint this reader.
Very Good (9)
May 2004

To visit elsewhere at this site use this Navigation Bar