STE5EN'S SCIENCE FICTION and HORROR BOOK REVIEWS
To visit elsewhere at this site use this Navigation Bar
To read a review either scroll down or click on author's name
BEAR, GREG
The Forge Of God
Anvil Of Stars
Queen Of Angels
Dinosaur Summer
Darwin's Radio
Eon
Eternity
BENFORD, GREGORY
Great Sky River
Cosm
Against Infinity




BESTER, ALFRED
The Stars My Destination
The Demolished Man





---
BENFORD, GREGORY
---
GREAT SKY RIVER

On a planet at the centre of the galaxy, humans have been almost completely exterminated by an alien race of machines. The planet is almost completely devastated by the aliens and a small band of humans are constantly on the run from alien attack.Story takes an unexpected twist about halfway through and I'm looking forward to the sequel. The story does stand on its own however.

Very Good (8)



BENFORD, GREGORY
---
COSM

Alicia Butterworth is a particle physicist working at the University of California - Irvine. She has been given access to a supercollider at Brookhaven National Laboratory, Long Island and is conducting an experiment where particles of uranium are smashed together. The data gathered from her experiment will be studied firstly by Brookhaven and then passed onto her. With this in mind, when the experiment goes wrong she decides to take/steal what seems to have been created in the collider back to UCI for further investigation.

Much of the story is devoted to detailing the lot of a scientist. The political manoeuvring and inter-disciplinary infighting that occurs amongst them as well as the difficulties encountered in the social arena. The object created in the collider, named Cosm, and its study provides an interesting aspect to the book.

I found the first hundred pages or so a bit of a slog. It wasn't until the Cosm made its appearance that things started to pick up. I was tempted to put the book away, but persisted and found the second half of the story more enjoyable.

Good (7)

October 1999


BENFORD, GREGORY
---
AGAINST INFINITY (1983)

Humans are attempting to terraform Ganymede, one of the moons of Jupiter. Bioengineers create small lifeforms that are able to convert the noxious compounds on Ganymede into ones that will suit. Due to the radiation that constantly rains on the moon's surface, mutations of these creatures arise and man is given the job of hunting them down before they reverse the good done by the 'norms'.

Ganymede has another inhabitant causing problems for mankind. The Aleph is a huge alien artifact that constantly burrows through the moon, rising to the surface to reek havoc on those unfortunates nearby. Its shape is in constant flux and its purpose and origins remain a mystery.

Although the story was interesting, I found aspects of Benford's writing to be wooden, particularly the dialogue. The premise was interesting and the book had its moments of excitement and thrills.

Good (7)

May 2002

---
THE STARS MY DESTINATION

Gully Foyle is an uneducated Mechanic's Mate with very little going for him. He is the sole survivor of an attack on the spaceship Nomad. He is able to scavenge food and oxygen by making small trips into the vacuum filled remains of the ship. His circumstances are not about to improve and the resultant frustration and anger he feels will lead him on a quest for revenge.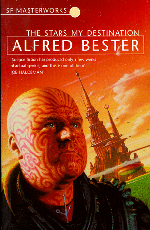 The story is set in a future where people use teleportation to move about the Earth and the other inhabited regions of the Solar System. Teleportation through space is not possible. When this means of transport was discovered, it threw relations between the Inner Satellites (Venus, Earth and Mars) and the Outer Satellites (the moons of some of the gas giants) into disarray leading to war.
Unbeknownst to Foyle, there was a substance on the Nomad that may help tilt the balance of war in favour of the Inner Satellites. Those who are searching for the wreck of the Nomad hinder Foyle's pursuit of revenge.
Written in 1956, this story still holds up very well today. The role of women in Bester's future may be the only thing that hasn't aged well. It is an exciting story with many thrills and twists in the plot.
Very Good (9)
October 1999

BESTER, ALFRED
---
THE DEMOLISHED MAN

Ben Reich is a businessman of the twenty fourth century. When a merger with a rival company fails, he decides to murder the owner and take control himself. Ben lives in a world where murder is uncommon, the last one having occurred some seventy years ago.

The problem faced by the criminals of the day is the presence of the peepers - telepaths with a strict code of ethics. Lincoln Powell, the Police Prefect, is one such peeper whose job is to solve the murder.

This Hugo winning story has a number of similarities to THE STARS MY DESTINATION. The central character is unpleasant and the plot revolves around the theme of unusual psychic ability. While not as immediately engrossing as the former work, this is another fine piece of writing that maintains interest until the very end.

Very Good (8)

November 1999

To visit elsewhere at this site use this Navigation Bar