STE5EN'S SCIENCE FICTION and HORROR BOOK REVIEWS
To visit elsewhere at this site use this Navigation Bar
To read a review either scroll down or click on author's name
BRADBURY, RAY
Something Wicked This Way Comes




BRIN, DAVID
Sundiver
Startide Rising
The Postman
The Uplift War
Kiln People
BROWN, ERIC
Penumbra




BUDRYS, ALGIS
Rogue Moon




BUJOLD, LOIS McMASTER
Barrayar
Falling Free
Shard Of Honor
The Warrior's Apprentice
The Vor Game
BYRNE, EUGENE
ThiGMOO




---
SOMETHING WICKED THIS WAY COMES (1963)

At three in the morning, a strange train carrying an even stranger circus stops just outside of a small town. Will and Jim, two young local boys, are the first to be aware of its presence. The circus stirs both feelings of excitement and fear in the boys and they soon witness enough strangeness to scare them for the rest of their lives.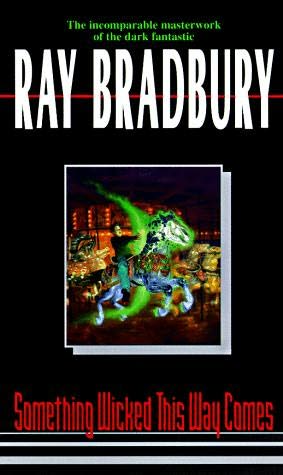 Mr Dark is the ringmaster of the collection of freaks that travel with the circus. The truth behind the power that he wields is soon discovered by Will and Jim and is a temptation for one of them. Mr Dark is The Illustrated Man, covered with tattoos that seem to have a life of their own and enable him to exert control over others.
As I read this book, I felt as if I had read it before, perhaps back in school. I believe I may have read the short story, The Illustrated Man, and on research I discovered a film was made of the book and it may be this that makes the whole experience feel familiar.
Bradbury's prose is very expressive and poetic. Nothing is ever described in simple terms and once you get used to Bradbury's use of language, the story flows smoothly. An example that struck me was the phrase "his flesh took paleness from his bones." This was a well-written and satisfying horror tale that has encouraged me to seek out more of the author's work.

Good (8)
July 2002
---
SUNDIVER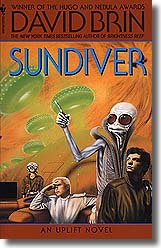 An encounter with beings that live in the Sun that becomes a murder mystery. I enjoyed this story more than the highly ranked sequel.

Very Good (8)


Author site www.kithrup.com/brin/


BRIN, DAVID
---
STARTIDE RISING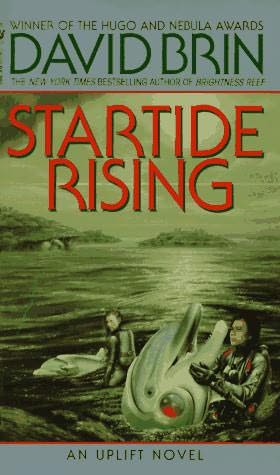 A ship manned by humans, dolphins and a chimpanzee discovers an ancient lost fleet and as a result is chased by all manner of alien species. They hide on a watery planet trying to repair their ship and elude their enemies. Dolphin/human political intrigue affects the crews chances of escape. As I read this, I continually hoped for more than I got. Perhaps the sequel THE UPLIFT WAR, delivers more of the goods I was waiting for. Hugo winner.

Very Good (8)


BRIN, DAVID
---
THE POSTMAN

Set early next century, the Earth has suffered as a result of a brief but devastating war. In North America, humanity survives in small 'townships' with little in the way of comfort. Disease, starvation and the threat of attack by viscous 'survivalists' have taken their toll on the remnants of mankind.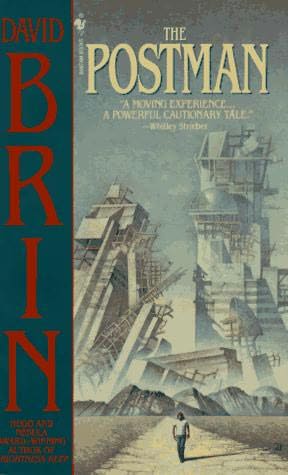 We follow the journey of Gordon Krantz as he tries to survive in this harsh setting. He is able to obtain food and shelter by entertaining those communities he comes in contact with. Gordon loses almost all his possessions to a group of thieves and by chance comes up with a new scheme that may ensure his survival. His plan is to act as a postman delivering mail from more prosperous parts of the country. Using his acting skills he is able to bluff his way, but as a result finds himself in deeper than he had hoped.
While the book was entertaining it didn't reach any great heights. As usual, I wanted to read the book before watching the movie, but unfortunately the image of Kevin Costner in the lead role and the sort of smaltzy treatment I imagine him giving the story did have a slightly negative effect on the reading. I will hire the video in the near future and hope for the best.
Good (6)

BRIN, DAVID
---
THE UPLIFT WAR (1987)

Garth is a planet that has suffered at the 'hands' of an alien race, the Bururalli. They have since been wiped out for their crimes. Now Earthlings, humans and uplifted chimpanzees, or neo-chimps, have been given the planet and their job is to gradually restore it to a sustainable state.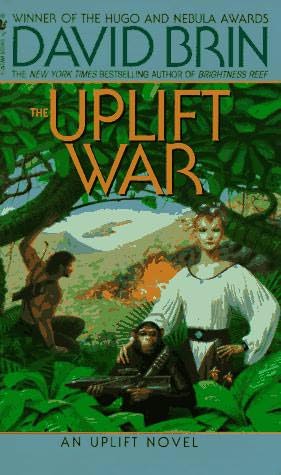 The Gubru are an avian race who decide that the invasion of Garth will put pressure on Earth to hand over the secrets uncovered by the neo-dolphin crew of the Streaker. The Streaker, in its travels far across the Galaxy, is believed to have discovered evidence of the Progenitors, the original race that began the process of uplift.
This is the best of the Uplift novels that I have read. The focus of the story is on the neo-chimps who, with a little assistance, take on the technologically superior Gubru. The Streaker and its discovery do not play any part, except as the catalyst for the events in this story.
Excellent (10)
May 2002

BRIN, DAVID
---
KILN PEOPLE (2002)

Albert Morris, a private investigator, doesn't have to get his hands dirty nor risk his life when on the job, as he can send a copy of himself that can return at the end of the day and download all that has been experienced. Morris lives in the age of clay copies, or "dittos", that have a 24 hour lifespan and have freed mankind from a life of work and given people more time to experience life, usually through the downloaded experiences of their copies.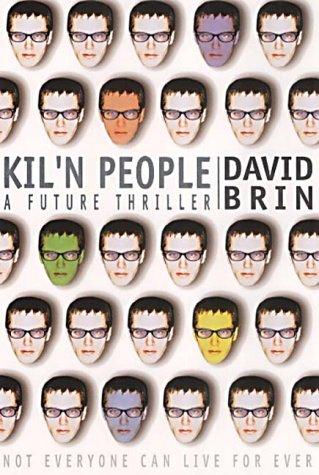 Morris is hired to find a brilliant researcher of dittotech and soon finds himself, realAlbert, and a number of his copies, entangled in a complex plot that threatens the lives of many.
This story showed a lot of early promise. It is written in a humorous style and cleverly portrays the lives and thoughts of copies that are viewed as disposable commodities. Dittos come in a variety of colours which pigeon hole them into roles with particular rights and responsibilities.
For me the story seemed to lose its way about three quarters of the way in. The ending didn't totally satisfy and although I really wanted to like the book, it ultimately was a bit of a letdown.
Good (7.5)
April 2003

---
PENUMBRA

Josh Bennett is a pilot working on an orbital transit terminal where people leave the Earth in search of new lives on colony worlds. His services are required by the Mackendrick Foundation to take a ship to the edge of the Galaxy far from human habitation and exploration.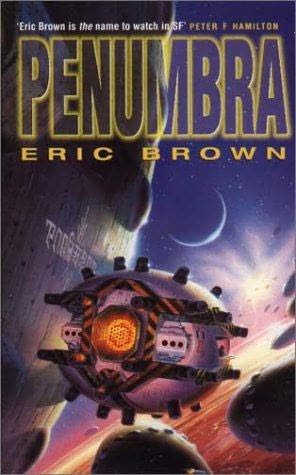 Rana Rao works for the Child Welfare section of the Calcutta police department. Her superiors have noticed her skills and they offer her a promotion to the Homicide division.
Ezekiel Klien is an off-worlder unhappy with what he sees of life on Earth. He decides to help clean up the mess by murdering a number of Calcutta's criminals. He is also searching for someone who may lead him to an item taken from his home planet years ago.
I thoroughly enjoyed this story. The three strands of it were woven together nicely and while the conclusion wasn't totally convincing, Eric Brown is an author I will keep an eye on.
Very Good (8.5)
November 1999


BUDRYS, ALGIS
---
ROGUE MOON

An alien artifact is found on the dark side of the moon and men are sent to it via teleportation which has only recently been invented. The purpose of the artifact is unknown, but it eventually kills all who enter.

This story received a lot of raves from the likes of Robert Silverberg and David Pringle who both say it is a masterpiece. Unfortunately I'd have to disagree. It spent too long on character analysis and not enough on the mystery.

Average (5)


---
BARRAYAR

I had hesitated for some time before reading one of Bujold's Vorkosigan novels as I assumed they would need to be read in order to be fully appreciated. Cover notes constantly refer to Miles Vorkosigan and his continuing exploits. I had read'The Mountains of Mourning' some time ago and remember it being an enjoyable short story.



It appears I chose a good place to start. There were a few references to earlier events, but the story was not difficult to follow with these omissions. The story centres on the birth of Miles and the struggle his mother, Captain Cordelia Naismith and father, Admiral Lord Aral Vorkosigan (retired) must endure to see to the safe arrival of their son.
Cordelia is a Betan, an offworlder, who until quite recently was helping fight a war against Barrayar, home planet of Aral. The events leading up to their marriage are to be found in SHARDS OF HONOR and are alluded to in this story. Cordelia has a hard time adjusting to the way things are done on Barrayar and she finds herself caught up in some particularly unpleasant local politics.
I look forward to reading more of Bujold's work if this is anything to go by. An entertaining journey filled with intrigue, deceit and suspense with many a twist of plot. Hugo winner.
Very Good (9)

Tribute site www.dendarii.com/

BUJOLD, LOIS McMASTER
---
FALLING FREE

Leo Graf is an engineer, employed by GalacTech and newly appointed to the Cay Habitat orbiting the planet of Rodeo. The Habitat is home to one thousand genetically altered people, the Quaddies, who have been designed to be GalacTech's new super-workers. They have been 'built' to work in zero gravity conditions. In the eyes of GalacTech these quaddies are not human and therefore may be exploited as deemed fit by the company.

Future prospects for the Quaddies are quite grim as new technology threatens the 'need' for their existence. Leo has to decide between his loyalty to his employer and his moral obligations to the helpless Quaddies.

FALLING FREE is another very entertaining tale from Bujold. This is the second work of hers I have read and it forms part of the same universe, although it is set some 200 years prior. Once again it contained many plot turns that keep you on your toes.

Good (8)


BUJOLD, LOIS McMASTER
---
SHARDS OF HONOR

This book reminds me of all that was BARRAYAR. From the first page you are interested and entertained. You don't have to wait for the first couple of hundred pages to warm things up. I read this in a couple of sittings.

This is the tale of how Aral and Cordelia met. Commander Cordelia Naismith is conducting a scientific survey for Beta Colony on a remote planet thick with vegetation and exotic creatures. Captain Aral Vorkosigan is in command of the Barrayaran Imperial war cruiser General Vorkraft. Their paths cross a number of times in difficult circumstances.

If you are contemplating reading either SHARDS … or BARRAYAR, I'd suggest the former in that it makes certain relationships more easily understood when encountered in the latter. Not that I think my enjoyment of BARRAYAR was in any way hindered. If you like swashbuckling adventure and constant action then you can not fail with this book.

Very Good (8.5)


BUJOLD, LOIS McMASTER
---
THE WARRIOR'S APPRENTICE (1986)

Miles Vorkosigan is 17 years old (I don't know how this translates to Earth years) and is attempting to complete his officers candidacy for the Barrayaran Imperial Military Service. Miles' one weakness is the physical testing. Due to a poison attack on his mother during pregnancy, Miles stands less than five feet tall and has a twisted spine and brittle bones.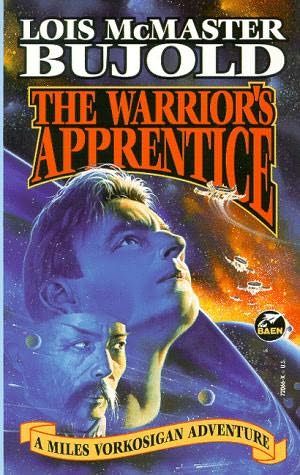 I won't tell you if he succeeds in his attempt to become an officer, but he does find himself in a situation that quickly goes from bad to worse and requires all of his savvy in order to save himself and those around him.
While I found the book very entertaining, I did find it hard to believe that Miles, given his tender years and lack of experience, was able to manoeuvre people as well as he did. Some of the twists and turns within the story lost me at times. There was so much going on it was hard to keep up. This aside, the book is well worth reading and follows on nicely from SHARDS OF HONOR and BARRAYAR.
Very Good (8.5)
October 2000

BUJOLD, LOIS McMASTER
---
THE VOR GAME (1990)

It is four years after Miles established the Dendarii Mercenaries. He has spent that time on Barrayar, learning how to take orders rather than give them. In fact, he ends up being posted to Kyril Island, a remote and desolate location, as the Meteorology Officer.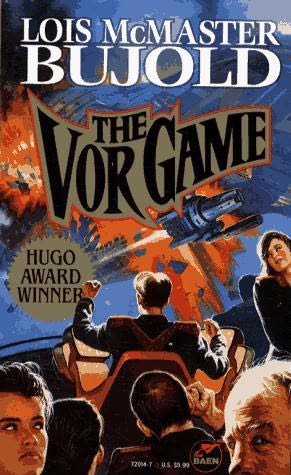 Miles becomes involved in events on Kyril Island that further test his ability to be subordinate.
His superiors decide the best thing to do is to send him further afield. Will this keep him out of trouble? I wouldn't think so!
I have been looking forward to this story for quite some time. Perhaps that is why I felt disappointed on reading it. Not as exciting and engaging as Bujold's previous efforts, but still an entertaining read. Hugo winner.
Good (7)
November 2000

---
ThiGMOO (1999)

Sir John Westgate and Katherine Beckford are the major force behind the Museum of the Mind, an interactive computer program that teaches history. They, along with others, have created a number of characters/personalities that are meant to represent people of particular ages.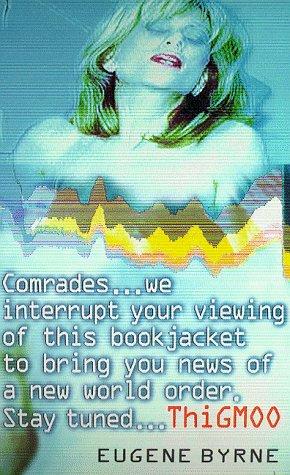 Some of these computer generated people or erams have escaped into the world's computer networks where they get up to mischief. The erams at MoM wish to pursue greater independence and when they learn that they are about to be shut down, they plan to escape and establish themselves elsewhere.
The story is told by one of the erams, Myles, who recounts events to Sir John. Myles was programmed to be a hack pornographic writer, but intends to publish the flight of the erams as his first serious work.
I found this to be a very enjoyable and humorous story. The pursuits of the characters, both real and virtual, were a pleasure to follow and Byrne's sense of humour made ThiGMOO, his debut novel, a constant delight.
Very Good (9)
March 2000

To visit elsewhere at this site use this Navigation Bar