STE5EN'S SCIENCE FICTION and HORROR BOOK REVIEWS
To visit elsewhere at this site use this Navigation Bar
To read a review either scroll down or click on author's name
CLARKE, ARTHUR C.
Rendezvous With Rama
Rama II
Garden Of Rama
Rama Revealed
Childhood's End
The Fountains Of Paradise
The City And The Stars
CLEE, MONA
Overshoot






CLEMENT, HAL
Mission Of Gravity






CZERNEDA, JULIE E.
A Thousand Words For Stranger
Beholder's Eye
In The Company Of Others
Ties Of Power
CLARKE, ARTHUR C.
---
RENDEZVOUS WITH RAMA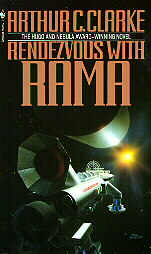 Strange alien spaceship enters our solar system. Earth sends a team to investigate the craft. The description of the inside of the craft and the exploration of it is superb. Hugo winner.

Excellent (9)





CLARKE, ARTHUR C.
---
RAMA II

Began slow with the development of the central characters prior to their mission to another alien craft many years after the first. All of which is essential to the story that follows which is full of intrigue and adventure. I enjoyed this one more than the first.

Excellent (9.5)



CLARKE, ARTHUR C.
---
GARDEN OF RAMA / RAMA REVEALED

After reading the first two, you will no doubt want to read the remaining sequels. The grand design of the aliens is revealed as are the aliens. While these books were enjoyable, they didn't match the sense of wonder and excitement created in the first two stories.

Good (7)


CLARKE, ARTHUR C.
---
CHILDHOOD'S END

Immense alien spaceships position themselves above the Earth's major cities. As a result of their presence, things begin changing and ultimately so does the species Homo sapiens.

We see these changes over a 100 year period through the eyes of a number of characters. There is no one central character and this does not detract from the story.

On the front cover of Hogan's INHERIT THE STARS there appears a quote by Asimov that states "...move over Arthur C. Clarke". Well I read this after the Hogan effort and I don't think Clarke has too much to worry about.

Very Good (8.5)


CLARKE, ARTHUR C.
---
THE FOUNTAINS OF PARADISE

This was a disappointment. Story centres around the building of an elevator to the stars. While there were some very descriptive and entertaining accounts of an ascent up the elevator, the rest of the story plodded along.

Good (6)



CLARKE, ARTHUR C.
---
THE CITY AND THE STARS (1956)

Alvin lives in the city of Diaspar, the last refuge of Man after being driven from the Galactic Empire it had established by the mysterious Invaders. For a thousand million years the city of Diaspar has, under the control of the all powerful Central Computer, maintained a standard of living far surpassing that of earlier generations. Alvin, however, is different from the rest of his kind, as he wants to leave the city and explore. Others have had that desire bred out of them

Alvin's efforts concern his superiors and bring them to an important choice as to the future direction of mankind.

Only a short story, some 170 pages, but it kept my interest until the final page and I'd recommend this as a quick, well written piece of fiction which still stands up after almost 50 years.

Very Good (8.5)

August 2004


CLEE, MONA
---
OVERSHOOT (1998)

Moira is eighty years old and tells us of life in the year 2032. The Greenhouse Effect has played havoc with the planet; extremes of heat and rainstorms ravage and destroy. Food is scarce and those who have some measure of comfort and security are outnumbered by the homeless and starving masses.

Moira's depiction of her present existence is peppered with accounts of her life before this period and the cultural, political and social changes she has witnessed.

Clee's portrait of life in the new future is unsettling given that we constantly see the abuse and misuse of our resources in our everyday lives. World governments still have trouble agreeing to levels of decreased greenhouse gas emissions. Clee paints a picture of the future where too little was done too late.

While bleak at times, Clee offers some hope of eventual salvation. An enjoyable and well written tale.

PS The day after I finished this book I heard a report on the radio stating that scientists predict an increase in global temperature of 6 degrees Celsius over the next one hundred years.

Very Good (8)

March 2001


CLEMENT, HAL
---
MISSION OF GRAVITY

Explorers from Earth are studying the huge, oddly shaped planet known as Mesklin. Humans are only able to physically explore the equatorial region, called the Rim by the Mesklinites, where gravity is three times that of Earth. Move away from the equator and gravity increases up to a maximum of 700 times that of Earth.

A rocket collecting data has landed at the south pole and the humans can only retrieve the data by enlisting the aid of the Mesklinites. They have difficulty coping with the conditions away from the polar regions, but agree to help the humans. They journey across the planet through uncharted territory encountering strange creatures and civilizations.

Clement tells an interesting and entertaining tale of adventure backed up with scientific reasoning. The world and its inhabitants are unique yet believable. I will keep an eye out for more of his work.

Very Good (8.5)


---
A THOUSAND WORDS FOR STRANGER (1997)

A woman becomes separated from her escort while travelling on the planet Auord. An unknown group attacks them and while the Enforcers, a kind of military police, question the male traveller, the female manages to 'escape'. She discovers that she has no memory of who she is, but she has a driving compulsion to find her ship, leave the planet and reach safety.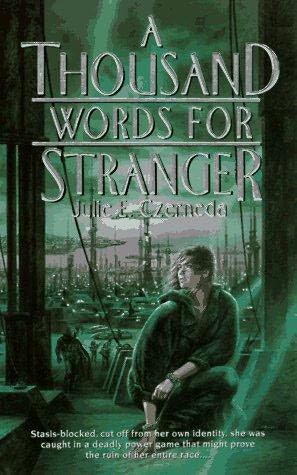 Eventually the woman, Sira, manages to flee with the help of a Human, Captain Morgan. The pair find themselves on the run from a number of pursuers.
Czerneda's debut novel is set in the Trade Pact universe where the Enforcers oversee the peace amongst a wide variety of alien species. One humanoid species known as the Clan, value their privacy and wish to have very little to do with other beings. They have developed strong telepathic abilities which enable them to communicate and travel through space. The Clan has been able to keep themselves hidden and knowledge of their abilities limited by tampering with the thoughts of alien races.
This story maintained the interest and excitement up to the last pages. Filled with villains and heroes and interesting alien species, this is a great start for Czerneda. The title sounds like that of a cheap romance novel and while it does have a dose of romance, this book is a work of quality science fiction.
Very Good (9)
May 2001


CZERNEDA, JULIE E.
---
BEHOLDER'S EYE (1998)

Esen is a shape-shifter. She and her kind, collectively known as the Web, can assume the form of any species once they have made contact. These Web beings study different species throughout the Galaxy so as to learn and preserve the uniqueness of all life. They are forbidden to reveal their true nature to all but the Web.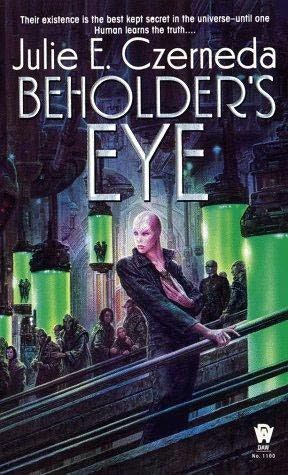 Esen, being the youngest of her kind at five hundred years of age, has been given her first assignment on the planet Kraos. According to information she was given, the Kraosians are unaware of the existence of life off-planet. She discovers that things are not as she expected and when she tries to assist another alien on the planet, things go from bad to worse.
While Esen gets herself into more and more trouble, something from outside of the Galaxy has begun consuming life along its fringe. An increasing number of empty ships and mining colonies are being found in the wake of its path.
In all the reading I have done, I have not come across a shape-shifting being before this. The theme has been covered in some of the movies or TV I've watched, but not to the extent of this book. Czerneda give us an insight into the life and culture of a race of shape-shifters and how they interact with other species. She teams up Esen with a human and their relationship develops throughout the entire novel until we end up with a kind of buddy story.
Another sound effort from Czerneda that began and ended very well, but I found my interest slightly waning somewhere around two thirds in. All in all, this book was a pleasure to read and further encouragement to grab hold of her other works.
Very Good (8)
June 2001

CZERNEDA, JULIE E.
---
IN THE COMPANY OF OTHERS (2001)

Mankind was about to open new frontiers beyond Sol System. A number of suitable planets had been terraformed in preparation for colonisation. At the same time, the search for intelligent life continued but failed to discover anything other than simple alien species. One such species was known as the Quill.


In readiness for the habitation of the newly seeded worlds, ships filled with people headed out from Earth. When all were set to make a new start, the Quill, who had established themselves on these planets, became deadly. Fear of the Quill reached Earth and an immediate blockade was established which turned away all ships wishing to return to Sol System. Space stations beyond Sol became overpopulated with masses of immigrants with nowhere to go.
When Earth scientists discover that a child was born on a Quill infected planet yet survived to live on one of the space stations, a team is sent out to use him to help defeat the Quill.
This book is independent of Czerneda's other works. It is similar in that the story is essentially character driven and a romance develops between two of the central characters. If you have read any of Czerneda's work then don't miss this one. If you're a fan of Bujold (in particular Shard's … and Barrayar) then you should grab hold of this.
Excellent (10)
November 2001

CZERNEDA, JULIE E.
---
TIES OF POWER (1999)

Members of the Clan are not happy with Sira's failure to Choose one of her own kind. Her talent is valued by the Clan and some are prepared to go to extremes to obtain such ability. When she is attacked, Sira sends Morgan on a hunt to find those responsible and return to her what was stolen.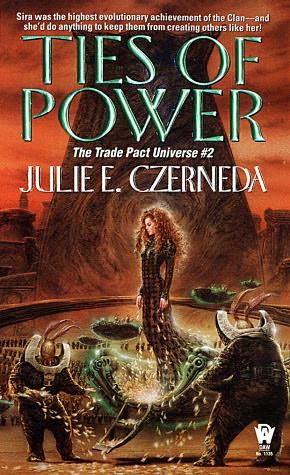 Sira seeks refuge with a little known race, the Drapsk, who are aware of her uniqueness and wish her to help them regain what was lost from them a long time ago. The Drapsk are reluctant to tell Sira too much, just that they want her to face a test that could decide their future.
Czerneda's second novel set in the Trade Pact universe is a very enjoyable follow-up to A THOUSAND WORDS FOR STRANGER. Mixed with intrigue, mystery and murder this book should entertain all, but read it only after STRANGER.
Very Good (9)
May 2004
To visit elsewhere at this site use this Navigation Bar