STE5EN'S SCIENCE FICTION and HORROR BOOK REVIEWS
To visit elsewhere at this site use this Navigation Bar
To read a review either scroll down or click on author's name
CADIGAN, PAT
Tea From An Empty Cup






CAMPBELL, RAMSEY
The Hungry Moon
The Doll Who Ate His Mother





CARD, ORSON SCOTT
Ender's Game
Speaker For The Dead
Xenocide
Children Of The Mind
Ender's Shadow
Treason
Shadow Of the Hegemon
CAREY, M. R.
The Girl With All The Gifts




CARROLL, JONATHAN
From The Teeth Of Angels
The Panic Hand
Voice Of Our Shadow
The Land Of Laughs
The Wooden Sea
CHERRYH, C. J.
Downbelow Station
Foreigner



CADIGAN, PAT
---
TEA FROM AN EMPTY CUP

Set in the near future, two women, Yuki and Konstantin separately enter the world of virtual reality (or "Artificial Reality") in order to discover the whereabouts of Tom Iguchi. Both women have a dislike for the medium they have entered. Most of the people they have witnessed who use AR tend to prefer it to RL ( Real Life) and often end up confusing the two.

Konstantin is a Lieutenant trying to solve a murder that occurred to a user while plugged in. Yuki is a friend of Tom's concerned by his apparent disappearance. They encounter all manner of strangeness in the world of AR, some of which turns out to be life threatening.

At just over 200 pages, this is a quick read. Unfortunately one that didn't quite cut it. I started losing track of the goings on from one chapter to the next as Cadigan constantly switched the character viewpoint. The ending did gather speed and things became more satisfying, but the eventual conclusion still left too many things unresolved.

Good (6)



CAMPBELL, RAMSEY
---
THE HUNGRY MOON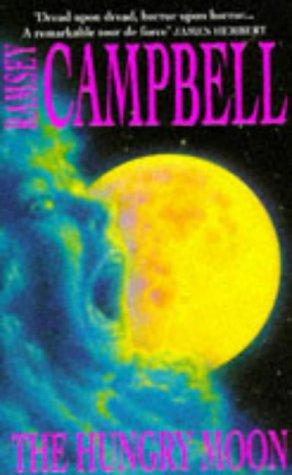 This story began slowly, spending a lot of time setting the scene and establishing characters. I kept expecting something to happen, but it never did. Not until about 200 pages in when all of a sudden the story took off. Lots of horror and frightening things occur that kept me entertained 'til the end. Essentially it's about the things that lurk in the dark.

Excellent (9)



CAMPBELL, RAMSEY
---
THE DOLL WHO ATE HIS MOTHER

More of a murder mystery than a horror story. A group of victims relatives try to hunt down the man responsible for their suffering.

Good (7)


CARD, ORSON SCOTT
---
ENDER'S GAME



This novel far surpassed the expectations I had of it. One exceptional boy's journey from life on Earth to preparing boy soldiers to fight against a feared alien race. Hugo winner.

Excellent and highly recommended. (10)


Tribute site www.hatrack.com/


CARD, ORSON SCOTT
---
SPEAKER FOR THE DEAD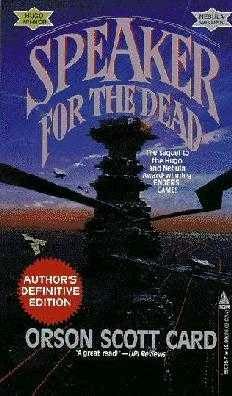 A brilliant sequel to ENDER'S GAME. Very different to the original with the focus being the interaction between humans and 2 alien species. Hugo winner.

Excellent and highly recommended. (10)

CARD, ORSON SCOTT
---
XENOCIDE

Lusitania, the planet on which Ender and his family live, is seen as a threat to humankind by Starways Congress who send a war fleet to destroy the planet.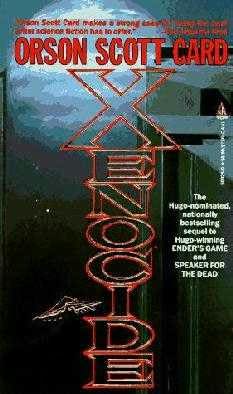 Jane, Ender's companion computer intelligence, is fighting for her right to exist. Her fate, and that of Lusitania, is to be decided by the people of Path, a two hundred year old Chinese colony world. These people believe that the gods speak to the chosen and that the gods will decide Lusitania's fate.
Good (7)

CARD, ORSON SCOTT
---
CHILDREN OF THE MIND

The fourth book in the Ender series and according to the cover itís also the conclusion. This story picks up where XENOCIDE left off. Enderís aiua (lifeforce/soul/essence) has been split three ways after Jane transported him Outside on her first use of faster than light travel. Part of his aiua has created a copy of his brother Peter and another part has formed his sister Valentine. Both Peter and Valentine are sent on separate missions to save the planet of Lusitania and its inhabitants from destruction by the fleet of warships sent many years ago.



Jane, the evolved computer intelligence, is also struggling to survive as Starways Congress continues to shut down its ansible connections. Itís within these connections that Jane exists.
Ender himself plays very little part in this story. Itís more the tale of Peter, his companion Wang-mu from the planet Path, and Valentine who travels with a revitalised Miro. Both Peter and Valentine fight for their continued existence in a journey that takes them across the Galaxy.
This was an excellent and very satisfying conclusion to the Ender saga. I thought it was an improvement on XENOCIDE. Its pace was maintained throughout and I found it difficult to put down.
Excellent (10)

CARD, ORSON SCOTT
---
ENDERíS SHADOW (1999)

This is the story of Bean, a boy who trained with Ender Wiggin at Battle School in ENDERíS GAME. We are taken from his early beginnings living as an orphan on the streets of Rotterdam, up to the climax that closed Cardís first foray into this universe. There is only a small amount of time devoted to Ender, much of the story is told from Beanís viewpoint.

This book ties in much more closely with ENDERíS GAME than did the earlier sequels. If you have read ENDERíS GAME (which of course you must), this story covers new ground and a new perspective on familiar events. While not as good as its predecessor, it is a worthy addition to the saga.

Very Good (9)

April 2001


CARD, ORSON SCOTT
---
TREASON (1988)

For three thousand years the inhabitants of Treason have been cut off from the rest of mankind. Their ancestors, a group of the intellectual elite, were found guilty of subversion and banished to a planet that could sustain life, but would allow little technological development due to an almost total lack of iron. Small quantities of iron are Ďbeamedí down to the planet for exchange for what little the people of Treason have to offer. One Family, the Nkumai, begins acquiring a disproportionate amount of iron, enabling them to easily conquer its neighbours. The Muellerís are concerned by the seemingly unstoppable progress of the Nkumai.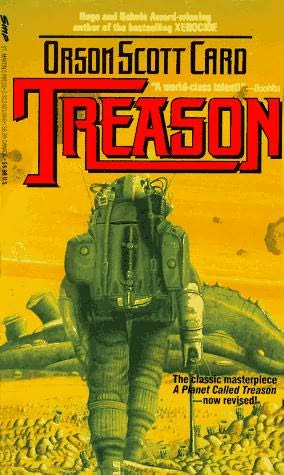 Lanik Mueller was born to rule, but on reaching adolescence a genetic abnormality sees him rejected by his Family and an outcast. His goal is to search out information valuable to his people that may help restore him to his rightful place. Lanikís journey takes him to many strange places where the people and customís differ greater from each other. Each Family he encounters has its own particular strength, determined by the original member of that Family who was a specialist in a certain intellectual endeavour.
I would have rated this a 9 if it werenít for some of the more outrageous skills some of the inhabitants of Treason had developed. Some of these Ďtalentsí bordered on fantasy. All in all this was an enjoyable story that should please fans of Cardís other works. This version of Treason has been rewritten from an earlier work titled A Planet Called Treason, which was Cardís second published novel.
Very Good (8.5)
December 2001

CARD, ORSON SCOTT
---
SHADOW OF THE HEGEMON (2000)

In this book, Card explores the fate of the battle school children once they have returned to Earth. Their expertise is a very valuable commodity and one individual, the insane Archilles who was expelled from battle school, has plans for Bean and Petra in particular.

I didnít enjoy this book as much as the others in the series. It read more like a political thriller than sf and I had considered not finishing the book, but I persisted and it ended up OK.

Good (7)

January 2007


CAREY, M.R.
---
THE GIRL WITH ALL THE GIFTS

I saw that this book was listed as one of the best horror novels of 2014. I didnít know any more than that. On reading, I wasnít sure what was going on but I was intrigued. The story moves along at a quick pace, helped by the author writing small chapters. Eventually, it becomes obvious what type of story it is, but it isnít what youíd expect.

Spoiler alert: Melanie is one of a number of small children who are being kept imprisoned under very strict conditions. Miss Justineau teaches the children a few times a week, but is discouraged from forming attachments with the children. Thatís because the kids are zombies. High functioning zombies that can turn if given the right situation.

The story centres on the relationship between Melanie and Miss Justineau. Yes, there is a little gore and eating, but the focus is on the people and the situations they find themselves in. I havenít enjoyed a book as much in a while. Highly recommended.

Excellent (10)


CARROLL, JONATHAN
---
FROM THE TEETH OF ANGELS

Nominated for the 1994 Bram Stoker Award, this is a thoroughly enjoyable tale about a handful of people and how Death impacts on their lives.

Ian McGann discovers that he can ask Death any question he likes during his dreams. If he doesn't understand the answers however, there are consequences. Arlen Ford escapes Hollywood for a life of seclusion in Vienna where she still tries to come to terms with her existence. Wyatt Leonard follows a friend in need to Europe where he discovers some strange talents that Death has given him. The lives of these three intertwine as they attempt to understand their lives and Death's place in it.

I read this book faster than any I can remember and enjoyed every page. It is not a horror story in the typical sense. There are no monsters, no murders and very little blood.

Excellent (9.5)


Author site http://www.jonathancarroll.com/


CARROLL, JONATHAN
---
THE PANIC HAND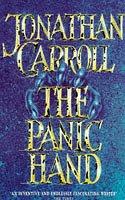 An excellent collection of short stories that won a Stoker Award. Carroll's stories have a very contemporary feel and setting in most cases, except for subtle twists of fantasy. Some of these stories I wanted to go on longer as I enjoyed them so much. Even though they are short stories, the characters are instantly defined and they remain unique even after the previous story.

Excellent (9.5)


CARROLL, JONATHAN
---
VOICE OF OUR SHADOW

The story begins with Joe's childhood where he suffers at the hands of his older brother and his friend. He is both frightened and in awe of his brothers exploits. An accident occurs to the trio which will have a lasting affect on Joe.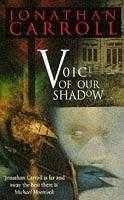 As an adult, Joe is a writer who has experienced some success. He has moved to Vienna where he meets and falls in love with a married couple, the Tates. His involvement with the couple reaches a point where his desire for Mrs. Tate will affect all.
Like the other work of Carroll's I've read, I have been impressed with the style and flow of the writing. The prose is as smooth a silk and you find yourself totally involved with the story. The story itself was good, but not up to par with TEETH OF ANGELS. It is a study of one man's life, his fears and guilts haunting him throughout.
Good (7)

CARROLL, JONATHAN
---
THE LAND OF LAUGHS

Thomas Abbey grew up in the shadow of his father. Stephen Abbey was a famous film star who spent little time with his family. Thomas is an English teacher who has decided to take some time off to write a biography of his favourite author, Marshall France. France is the author of offbeat children's books.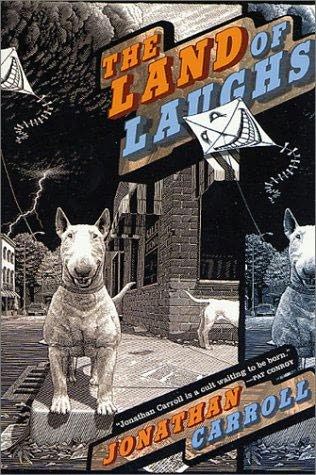 Anna France is the daughter of the deceased author. She too has lived the life of a celebrity's child. Thomas seeks her out to win her approval for the biography and contrary to all accounts, she is not the mean and difficult woman she is portrayed to be. She lives in the small town of Galen, which is where her father had made his home.
Thomas and Saxony, his assistant and lover, through their research of Galen discover some remarkable coincidences between the author's work and the town. Thomas soon finds himself in a position to affect Galen's and its inhabitants future.
Once again, this story fails to reach the heights of TEETH OF ANGELS. It was an enjoyable tale that I never found boring. Carroll's prose, as always, is a delight to read. I found the ending to be a little abrupt, but on reflection I suppose anything else would have been too contrived.
Good (7)
November 1999

CARROLL, JONATHAN
---
THE WOODEN SEA (2000)

Frannie McCabe is the Chief of Police in the town of Craneís View, New York. In his youth he was a rebel who was always in trouble, but now he has the respect of the town and is happy with his lot. When he decides to be kind to a stray dog, weird things begin happening to him.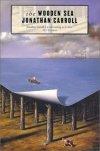 To tell you any of the strange things that happen would be to spoil for you what is a wonderful story that continues to astound the reader from beginning to end. The story has elements of sf with time travel and alien visitation, but overall Iíd classify this as a mainstream work of fiction with doses of weirdness. Read it and enjoy.
Excellent and highly recommended (10)
April 2005

CHERRYH, C. J.
---
DOWNBELOW STATION

A difficult book to get hold of. When my sister picked it up for me in Hawaii I was overjoyed. It has earned a lot of plaudits and a Hugo.

I found it difficult to enjoy. The style of writing was annoying and the plot was involved and slow moving. On speaking to a local bookseller, this is not typical of her work. Her advice was to give FOREIGNER a go. I've since bought it and shall get back to you later.

One day I'll try to finish DOWNBELOW STATION. I stopped at about half way. It may improve after this?

Average (4)


Author site www.cherryh.com/


CHERRYH, C. J.
---
FOREIGNER

A human ship is lost light-years from Earth and, as a last resort, it is decided to settle on a planet inhabited by the Atevi. Atevi are much larger than humans but their technology has only reached the age of steam. After a war between the two species, humans are permitted to live on a secluded island in exchange for their technology.

One human, the paidhi, acts as go-between, but finds himself caught up in a fight amongst the Atevi who have serious doubts about the motives and plans of the humans.

The story began and finished well. It tended to ramble a bit in the middle while the paidhi tried to resolve his difficulties with understanding a species which operated under a different set of 'rules'.

Average (5)
To visit elsewhere at this site use this Navigation Bar