STE5EN'S SCIENCE FICTION and HORROR BOOK REVIEWS
To visit elsewhere at this site use this Navigation Bar
To read a review either scroll down or click on author's name
GAIMAN, NEIL
American Gods

GERROLD, DAVID
A Matter For Men

GIBSON, WILLIAM
Neuromancer
Count Zero
GRIMWOOD, KEN
Replay


HALDEMAN, JOE
The Forever War
Forever Peace
Forever Free
HAMBLY, BARBARA
Those Who Hunt The Night


HAMILTON, LAUREL K.
Guilty Pleasures



HAMILTON, PETER F
The Reality Dysfunction
The Neutronium Alchemist
The Naked God
Mindstar Rising
HARRISON, HARRY
The Stainless Steel Rat



HARRISON, M. JOHN
Light



HEINLEIN, ROBERT
Double Star
Starship Troopers


HERBERT, FRANK
Dune



HOGAN, JAMES P.
Inherit The Stars


HOLDER, NANCY
Dead In The Water

HUBBARD, L RON
Battlefield Earth

---
AMERICAN GODS (2001)

Shadow has been sentenced to six years in gaol and is due to be released after serving three years. He has been a model prisoner and is determined to keep his nose clean and follow the straight and narrow path on release. Shadow has a loving wife and steady job waiting at home. He is essentially a good man.



Unfortunately, things donít quite work out the way Shadow had hoped. On his release he finds himself caught up in a battle between the gods. The gods of the past, who travelled to the US hundreds, even thousands of years ago with the countries earliest settlers, have long been forgotten by current generations. Instead, people have shifted their worship to modern day attractions such as TV, technology and the Internet. As a result, new gods have arisen. Some of the old gods wish to regain their position and set out to win back the adoration of the people.
I wanted to read this book as it won both the Bram Stoker award for best horror novel as well as the Hugo, which I had always thought was for best SF. Well AMERICAN GODS fits into the horror category as a dark fantasy, thereís not a lot of traditional horror, but it is definitely not SF. It turns out that the Hugo covers fantasy as well as SF. Iíd always used the Hugoís as a guide as to what to read in the SF field, but after the Harry Potter win last year and AMERICAN GODS this year Iím going to have to be more cautious.
There were times I thought about giving up on this story, but I persisted, given the praise and awards it has received. My rating was going to be a 7 or 7.5 for quite a while, but the ending of the book and the fact that I did persist with it (Gaiman does write well), convinced me to bump up my score a tad. I donít think Iíll be reading any more of the authors work.
Very Good (8)
November 2002

GERROLD, DAVID
---
A MATTER FOR MEN

The human population has crashed worldwide due to a number of deadly plagues. As well as this, strange insect-like creatures and plants have begun appearing. One of these in particular, a giant worm, seems to have a taste for human flesh.

Jim McCarthy has been assigned to a team that has the task of killing these worms, now known as the Chtorr. Jim has some training in biology, which he hopes to use to help him understand the Chtorr. After experiencing some mixed success, he is transferred to Denver where he hopes to learn more. His efforts in the city seem futile, as those in charge don't appear willing to listen.

I enjoyed those aspects of the story that dealt with the struggle against the worms. There were a number of exciting journeys into worm nests and interesting discoveries made in relation to the invasion. I felt that it got a little bogged down with recollections of lectures on responsibility and the like. Overall an enjoyable tale, but I hope the next book in the series give us more of the worm and the invasion.

Good (7)



GIBSON, WILLIAM
---
NEUROMANCER



Detective story based around computers and virtual reality. Hugo winner.

Excellent (9)



GIBSON, WILLIAM
---
COUNT ZERO (1986)

Bobby, aka Count Zero, is a small time computer hacker who has been given some icebreaker software to try out. Security software is known as ice. When he runs the software it nearly kills him and from then on his life only becomes more endangered.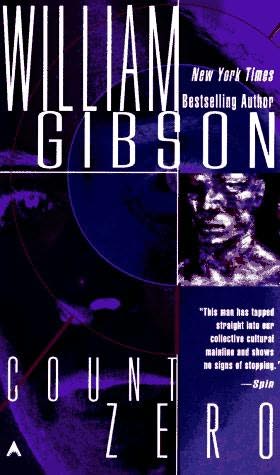 Turner is a mercenary who has been hired to transport a man named Mitchell who has developed the latest in technology, biochips. Mitchellís employers donít want to lose him and so Turner and his crew have to orchestrate an elaborate extraction with high risk.
Marly has been hired by one of the worldís richest men, Virek, whose life is maintained via a series of vats and communicates with Marly in cyberspace. Virek wants Marly to use her talents to find the maker of some artwork that is of great interest to him.
I found it difficult to follow this novel early. The story is told from the perspective of three characters that appear to have no connection. These separate plot lines do eventually converge and all finally makes sense. When this happens, things become more entertaining and exciting. Itís a pity this didnít happen earlier. I was tempted to put this book away early in my reading, but am thankful that I did stick it out.
Good (7.5)
June 2002

---
REPLAY (1987)

Jeff Winston has reached his 40ís and is not particularly happy. When he dies and finds himself back in college, he has a chance to make things right.

This is one of those rare books that I have no hesitation recommending to non - sf/fantasy readers. A great work of fiction. Itís similar to the movie GROUNDHOG DAY (which came after this book), but oh so much better!

Excellent and highly recommended (10)

April 2007


HALDEMAN, JOE
---
THE FOREVER WAR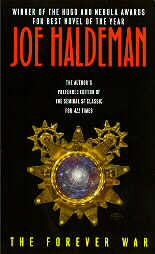 Human soldiers fighting a war against an alien species. Looks at the effect of space travel and the associated loss of relative time at home. Very exciting story with never a dull moment. Hugo winner.

Excellent and highly recommended (10)


Author site home.earthlink.net/~haldeman/


HALDEMAN, JOE
---
FOREVER PEACE

Not a sequel to THE FOREVER WAR. There are no aliens nor space travel in this story. An essentially racial war is being fought on Earth by the Alliance and the Ngumi. The Alliance is dominated by white society who have ready access to nanoforges that provide their society with all of its needs. The Ngumi are impoverished in comparison with only limited access to the technology of nanoforges. The war is fought by Ngumi terroists/guerillas and Alliance soldierboys and flyboys. These 'boys' are 3 metre tall robots controlled by men and women jacked into their machines far away from the fighting.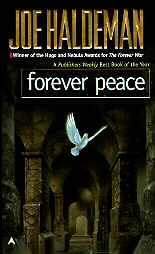 Those fighting the war do not have sole access to being jacked. Many in society opt for such an installation as it enables them to experience many things outside of their normal existence. They enter a virtual reality type world where pleasure can be heightened.
While the war is being fought, mankind has embarked on a massive project, the Jupiter Project, which uses thousands of nanoforges to build an apparatus in space that will repeat the conditions as they were at the beginning of the universe.
After about the first half of the book, we move away from the war emphasis into the more interesting aspects of 'jacking' and the intrigue surrounding the Jupiter Project and two distinct camps who either want the project stopped or completed. I had just finished reading ENDYMION and RISE OF ENDYMION prior to this novel and like these two, this story had a particularly evil female assassin. Hugo Winner.
Very Good (8.5)

HALDEMAN, JOE
---
FOREVER FREE (1999)

William Mandella is a veteran of The Forever War. He and his wife, Marygay, have settled on a very cold planet, Middle Finger, where they beat out a lowly existence. Unlike most of mankind, the Mandellaís and a small number of others have chosen to live as individuals rather than as part of the group mind known as Man.

MF is the last bastion of the individual human and the Mandellaís want to ship out. They plan to take a spaceship and travel away from MF and return after 10 years of ship time to a world thousands of years older.

Although set in the same universe as Haldemanís two prior FOREVER novels, this one pales in comparison. While not a bad book, it failed to deliver and the remarkable and somewhat ridiculous plot switch toward the end of the book didnít do it for me. By the way, the inside dust cover of the copy I read got the story wrong. Stick to the first two FOREVER stories and youíll be very happy.

Good (7)

January 2002


HAMBLY, BARBARA
---
THOSE WHO HUNT THE NIGHT ( aka IMMORTAL BLOOD )

Similar vampires to Rice's. Set in turn of the century England where a human is 'employed' by a vampire to help hunt down a vampire killer. I loved it.

Excellent (9)

---
GUILTY PLEASURES (2002)

Anita Blake inhabits a world of vampires, werewolves, zombies and ghouls. One of her skills is the ability to reanimate the dead. A helpful tool when the authorities wish to solve a murder. While the general human populace has accepted vampires, she doesnít trust them and as a result, when someone begins slaying master vampires, Anita comes under suspicion.



She soon finds herself working for the surviving masters, who threaten to kill her best friend if she doesnít produce quick results.
This is the first book in a series that follows the pursuits of a vampire slayer. While it was enjoyable I wont be rushing to the next story. Iíd rather watch an episode of Buffy, which is similar in content but with more humour.



Good (7.5)
January 2005

HAMILTON, PETER F.
---
THE REALITY DYSFUNCTION

I put off reading this one due to its immense size. At 1221 pages it's one of the biggest books in my collection, the biggest is the sequel at 1259 pages! This book should be placed on everyone's 'to read' list. From beginning to end we experience a roller-coaster ride of pure space opera. At no time did I stop to think about the next book I'd choose to read, except perhaps the sequel. Filled to the brim with interesting characters confronted by extreme situations. Read it.



Hamilton's universe consists of two groups of humans, Adamists and Edenists. Adamists make heavy use of nanotechnology, but frown on the genetic manipulation and biotechnology carried out by the Edenists. The Edenists have geneered within themselves an "affinity" gene that allows them to communicate telepathically with each other. They also construct their space habitats and spaceships with biotechnology and are linked to them by affinity.
The story centres on a stage-one colony world called Lalonde. It is an unforgiving world covered in forest where conditions are always wet, hot and humid. Colonists from an overcrowded Earth are being constantly shipped to the planet, along with a number of less desirable types to perform some of the more menial labouring tasks.
Joshua Calvert is a prospector looking to make a fortune by finding Laymil artefacts in orbit around the planet Mirchusko. The extinct alien race known as the Laymil had once occupied a number of biologically engineered habitats. All that is left now has become known as the Ruin Ring. It is hoped that by collecting enough artefacts, the why and who of such massive destruction can be found.
I've told you little about the real story here. That is something you must discover for yourself. I will say that the story has its fair share of horror in it along with the space opera.
Excellent and highly recommended (10)
September 1999

HAMILTON, PETER F.
---
THE NEUTRONIUM ALCHEMIST

This sequel to THE REALITY DYSFUNCTION spends much of its time detailing the spread of the energy virus to other planets in the galaxy. We get a much closer insight into the possessed and the plans of conquest of three particular individuals.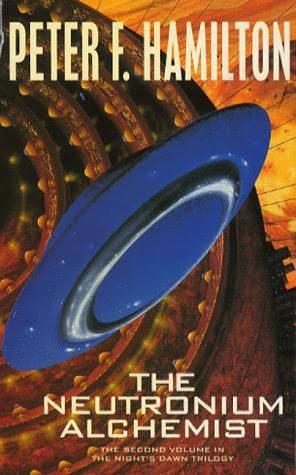 The story suffers in that it lacks the originality of the first, as can be the case in sequels. It also fails to reach the same level of excitement and thrills. Toward the end, the action picks up and we are left with some unresolved cliffhangers that leave you wanting more.
If you've read the first story, you will want to read this one. It is still a good read, but stands in the shadow of its predecessor. I am looking forward to the final part of the trilogy, THE NAKED GOD.
Very Good (8)
September 1999

HAMILTON, PETER F.
---
THE NAKED GOD

This is a fantastic conclusion to the saga that began with THE REALITY DYSFUNCTION. We are treated to the same level of excitement, thrills and sense of wonder found in that first instalment.



We see much more of the alien species that inhabit Hamilton's Universe and also travel to the realm that the possessed escape to. This was such a satisfying conclusion, to tell you more would ruin the joy awaiting you. Read it!
Excellent and highly recommended (10)
February 2000

HAMILTON, PETER F
---
MINDSTAR RISING (1993)

Greg Mandel is ex-military with the ability to determine the truthfulness of anyone he interrogates. This is possible due to a psi gland which was surgically added to his brain. He now uses his ability and military skills for anyone prepared to pay his fee.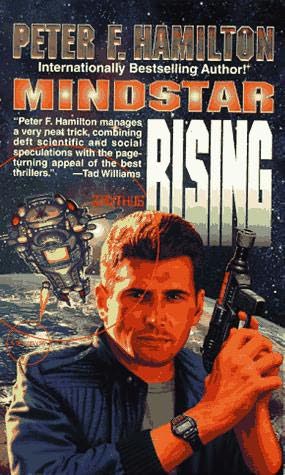 Julia Evans is the grand daughter of the owner of Event Horizon, a multi million dollar concern that is helping to restore technology to the people after years of decline. This decline was brought about by both environmental and political change. The Earth has warmed resulting in the polar caps melting and flooding once fertile land. World economies have crashed and governments have struggled to maintain order.
When sabotage is suspected at Event Horizon, Greg is hired to discover those responsible.
Hamilton maintains a fast pace throughout as we follow the exploits of Mandel as he tries to solve one mystery after another. I, like Mandel, was unable to determine those responsible and as a result was kept guessing until the exciting conclusion. This is the first of a trilogy involving Greg Mandel and after this effort I will not hesitate to read them all.
Very Good (9)
March 2002

HARRISON, HARRY
---
THE STAINLESS STEEL RAT

James diGriz is a crook who is very good at his trade. He has all his moves carefully planned and no-one ever gets seriously hurt as a result of his thievery. He unfortunately gets caught by the Special Corps, which enlists his services for the good of mankind.

diGriz is given his first mission which brings him into contact with an equally brilliant crook who has no qualms about killing those who get in her way. He ends up chasing her, Angelina, to a remote planet where he begins to question his true aim in the entire affair.

A slightly dated piece of fiction, written in 1961, which fails to reach any great heights. At only 158 pages it is a quick read, but after having finished Bujoldís BARRAYAR prior to this tale, I found myself contemplating my next read half way though it.

Average (5)

---
LIGHT (2002)

Michael Kearney is a very strange man living at the turn of the twentieth century who is haunted by a vision he names the Shrander. In an effort to escape it, his life takes a very dark and disturbing path. Kearney is also a mathematician working with Brian Tate on quantum computing.



Ed Chianese and Seria Maui live in a time when mankind has spread to the far corners of the Galaxy. Ancient alien races, no longer in evidence, left many artefacts which are now sought and fought over by those species travelling between the stars. Ed lives planetside spending most of his time avoiding reality. Seria has been transformed into a barely human pilot of an advanced alien ship.
Three separate storylines unfold that held my interest with equal force until the conclusion where all plots come together. LIGHT is a space opera filled with murder, mystery and the unknown. Harrison has been around for a while and based on this effort I will endeavour to read more of his work. Read it.
Excellent and highly recommended (10)
February 2005

HEINLEIN, ROBERT
---
DOUBLE STAR

Impersonation of a key political figure. Hugo winner.

Very Good (7.5)



HEINLEIN, ROBERT
---
STARSHIP TROOPERS

Similar to THE FOREVER WAR by HALDEMAN but not as good. Dragged a little in the middle with discussion about life in the service. Hugo winner.

Very Good (7.5)


---
DUNE

A boy's rise to lead a fight against an evil Empire. I had to read the sequels and was disappointed by all except the first two. Hugo winner.

Excellent and highly recommended (10)


HOGAN, JAMES P.
---
INHERIT THE STARS

I came across a lot of reviews of this title at amazon.com and all said it was one of the best science fiction books they've read. I then chased up a review of Hogan's work in an encyclopedia edited by David Pringle and he wasn't too complementary. Having now read the book, I'd have to agree with Pringle. Thank God I only paid $3.50 for it.

A man's body is found on the moon dated at 50 thousand years old. The characters then attempt to discover its origin and the origin of mankind.

Average (5)


HOLDER, NANCY
---
DEAD IN THE WATER

Bram Stoker Award winning story about a small group of people who take a 'cruise' to Hawaii on an old freighter. A mysterious fog surrounds the freighter and the holiday makers have to abandon ship. They are later rescued by what appears to be a luxurious cruise ship, but all is not what it seems.

When I finished this story I was a little unsure how I would rate it. It dragged a little in parts and I found myself eager to finish so that I could begin reading something better. There were doses of gore, ghosts and mystery, yet it didn't quite deliver.

Good (6)


---
BATTLEFIELD EARTH (1982)

Jonnie Goodboy Tyler lives in the mountains. His people are dying out and he decides to move to the plains where the hunting is better. Monsters stay away from these particular mountains due to the presence of uranium, which causes an explosion when in contact with their alien ďbreathe-gasĒ.

The Psychlos invaded 1000 years ago and have nearly wiped out mankind. They are twice the size of man and have been extracting valuable ore from the planet and transporting it to their homeworld.

Jonnie gets captured by Terl, a Psychlo who plans to use ďman-thingsĒ to mine gold from the contaminated mountains.

I could only manage to read about 200 pages of this 1000 page story before finding it too ridiculous to continue. Mankind has essentially returned to the level of the caveman after 1000 years without civilization. Yet one man is able to master two languages, English and Psychlo, handle machinery and fly alien aircraft after only one year of instruction. The real kicker was when a group of Scots, gathered together and transported to America, learnt to fly and talk Psychlo after only two months! The Psychlos are portrayed as either fools or self-interested schemers, hard to believe they have managed to conquer most of the Galaxy.

Hubbard constantly repeated himself, assuming, I guess, his readers to be operating at pre-civilized levels. I forget how many times the character Terl told us he needed to have leverage in order to gain power.

I began reading this book in case the film was worth seeing. From all reports, the film is as inane as the book.

Not worth the trouble (4.5)

June 2000


PS I've now watched the movie and I'm glad I didn't finish the book as it appears I didn't miss much. I did manage to watch the film all the way through so it wasn't THAT bad. Still silly though!

To visit elsewhere at this site use this Navigation Bar