STE5EN'S SCIENCE FICTION and HORROR BOOK REVIEWS
To visit elsewhere at this site use this Navigation Bar
To read a review either scroll down or click on author's name
KESSEL, JOHN
Corrupting Dr Nice


KING, STEPHEN
The Green Mile


KOONTZ, DEAN R
Midnight
Phantoms
Voice Of The Night
KRESS, NANCY



LE GUIN, URSULA
The Left Hand Of Darkness
The Dispossessed
The Word For World Is Forest
LEIBER, FRITZ
The Big Time
Conjure Wife

LETHEM, JONATHAN
Amnesia Moon
Gun, With Occasional Music
Girl In Landscape
As She Climbed Across The Table
LUMLEY, BRIAN
Necroscope
Necroscope II: Wamphyri
Necroscope III: The Source

---
CORRUPTING DR NICE (1997)

August and Genevieve Faison are father/daughter confidence tricksters who travel back in time in order to perform their scams. They stumble upon Dr Owen Vannice who is returning from the Cretaceous with a baby dinosaur. They plan to swindle him of his dinosaur and make a fortune.

In Kessel's tale, time travellers are allowed to exploit and corrupt the past. Advanced technologies are introduced to the Old World and famous people are removed before their death so that they may continue in their profession. It is possible to travel to many different versions of our past and in such a way end up with multiple copies of people such as Jesus.

A lighthearted story that had its moments, but wouldn't rate as a must read.

Good (7)

May 2001

---
THE GREEN MILE (1997)

(Belated review)

Winner of the Bram Stoker Award.

I'll begin by saying that I have avoided reading the work of Stephen King because of the quality of some of the celluloid versions of it. That's not to say that I haven't enjoyed some - notably MISERY. When I decided to give him a try I asked my sister, a huge King fan, what I should read. She suggested IT, which seemed to read like a movie script and so I gave it up early. When THE GREEN MILE was first released as a serialisation, I decided to give him another chance and I'm glad I did.

I can't remember a lot about the story apart from there being an inmate waiting on death row who exhibits some remarkable talents. I did almost give up reading the entire collection after the first two instalments as the story didn't seem to be going anywhere fast. Things certainly picked up after this point. I remember the characters were very well drawn and the portrayal of life in prison was very gripping.

This was not what I expected from a King story. No monsters and gore, but a very good human drama with an element of the fantastic.

Excellent (9.5)

February 2000

---
MIDNIGHT

This is the first book by Koontz that I have read and I thoroughly enjoyed it. Strange things are happening to the inhabitants of Moonlight Cove.


People are dying and strange creatures are roaming the streets. The sister of an apparent suicide and an FBI agent attempt to solve the mystery. The story has elements of science fiction as well as horror. Bram Stoker finalist.
Very Good (8)


KOONTZ, DEAN R
---
PHANTOMS

Two sisters return one night to the isolated town of Snowfield and find the entire populationis either missing or dead. They manage to get help from the sheriff's department in a neighbouring town, but soon discover they are up against something that requires far more assistance.

An enjoyable horror tale with its fair share of monsters and gore.

Good (7)


KOONTZ, DEAN R
---
VOICE OF THE NIGHT (1980)

Colin is new in town and has always found it hard to make friends. When he hooks up with Roy, he thinks all of his dreams have come true. Roy is the total opposite to Colin. He's the good-looking sports star, the type of guy that everyone in town seems to know and like.

Roy's also a little strange. He talks about death constantly. He tells Colin that he has killed a number of things and tries to get Colin involved in doing the same. It seems to Colin that all of this talk is some kind of test that he has to pass to win Roy's friendship.

This is one of Koontz's early efforts written under the pseudonym Brian Cottey. The book improved toward the end as the relationship between the central characters turned ugly. It was a quick read, but not one that I found inspiring nor particularly frightening.

Good (6)

March 2001

---
THE LEFT HAND OF DARKNESS

(Belated review)

Hugo Award winning story of an ambassador visiting a planet who finds himself torn between two different political groups. The natives of the planet are sexless for most of their lives except when breeding becomes necessary. The story moved along quite slowly with very little happening. The best part from what I remember was a trek by two of the characters across an arctic wasteland.

Average (5)


LE GUIN, URSULA
---
THE DISPOSSESSED

(Belated review)

Two neighbouring planets have completely contrasting social and political systems. A scientist from one planet travels to the other and gets caught up in its political upheaval. Hugo winner.

Average (4.5)


LE GUIN, URSULA
---
THE WORD FOR WORLD IS FOREST

(Belated review)

This novella was a delight - especially after the previous two novels. The story involves a team of humans who are displacing native species from an alien planet. The aliens, if I remember rightly, appear to be small ineffectual creatures who pose no obvious threat to the plans of man.

Excellent (9.5)

---
THE BIG TIME

A very different story and a unique style. A war is being fought across time and humanity has been caught up in it. All of the action takes place in a single setting where exhausted soldiers of a variety of species relax before rejoining the fight. Hugo winner.

Good (6.5)



LEIBER, FRITZ
---
CONJURE WIFE

Norman Saylor is a university lecturer who discovers his wife practices/believes in witchcraft. He convinces her of her foolishness and they destroy all of the charms and potions she has placed in their house designed to protect them.

Immediately, Norman's life begins to change for the worse.

An entertaining and at times exciting novella of witches and witchcraft.

Very Good (7.5)

---
AMNESIA MOON



A disastrous event seems to have occurred severely changing the lives of all. One man, Chaos, sets out to find out what happened. Some say nuclear war, others disease or even alien attack. Chaos travels from impoverished Wyoming, were people are reduced to eating canned food, to San Francisco, were everything lays in disrepair and televangelist robots preach to the disaffected. He meets an assortment of strange people living in equally strange situations. It seems that Chaos himself may have something to do with the situation people find themselves in.

This book reminded me a lot of The Twilight Zone and there was even a reference made to the old TV series. I read this novel quite quickly, a good indicator of its entertainment value. I too was keen to unravel the mystery and determine the cause of all the chaos.

Very Good (9)


LETHEM, JONATHAN
---
GUN, WITH OCCASIONAL MUSIC

Conrad Metcalf is a private inquisitor (or private eye) who, until recently, had been employed by Maynard Stanhunt to keep a watch on his wife, Celeste. When Maynard is found murdered, Metcalf becomes involved once more in the case. The accused, Orton Angwine, hires Metcalf to discover the real murderer and clear his name.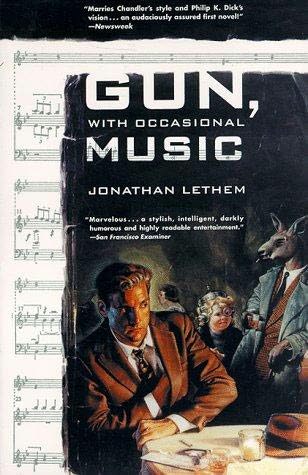 The story is set sometime in a rather bleak future where people don't ask questions, unless they happen to be licensed inquisitors, and animals and babies undergo accelerated evolution. Everyday objects have a habit of playing music when touched. The television news is broadcast as music rather than spoken. Convicted criminals are frozen until their sentence has finished and most people snort a cocaine-like drug known as 'make' that tends to keep them in their uninformed stupor.
Lethem writes the story from the viewpoint of his central character, Metcalf. We follow his path on the way to solving the murder mystery. An at times humorous and always entertaining story that will appeal to fans of murder mysteries as much as it will to sf fans.
Very Good (9)

LETHEM, JONATHAN
---
GIRL IN LANDSCAPE

The Marsh family moves from Earth, where ultraviolet radiation is so bad people live beneath the surface, to the planet of the Archbuilders. The Archbuilders are an alien race that used viruses to shape their world to their every need. Once this was achieved, they left their planet to explore the stars.

A settlement of humans now inhabit this planet with a small number of Archbuilders that, for reasons unknown, did not leave with the rest of their kind.

Pella Marsh is a 13-year-old girl who, along with her two younger brothers, does not take the medication that stops the alien viruses from entering her system. It is not known how this will affect the children.

Lethem tells the tale of Pella and how she comes to terms with life in an alien environment amongst a small band of humans. While not as good as AMNESIA MOON and GUN, WITH OCCASIONAL MUSIC, this is still an enjoyable story that will appeal to fans of his previous work.

Good (8)


LETHEM, JONATHAN
---
AS SHE CLIMBED ACROSS THE TABLE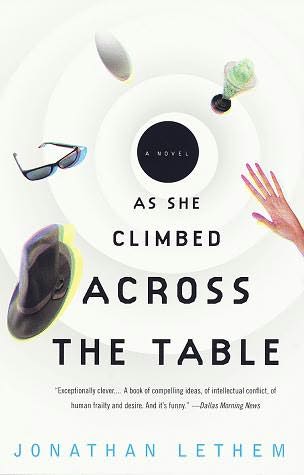 Philip Engstrand is a university lecturer specializing in the study of academic environments. A field that provides him with work that is "irrelevant and strong." He is in love with Professor Alice Coombs whose field is physics. Fellow physicist, Professor Soft, in an attempt to create a new universe in the laboratory, has managed to create a breach or portal to some place unknown. This breach becomes known as Lack due to its absolute nothingness. Philip finds himself trying to win back Alice who seems to have fallen in love with Lack.

Filled with interesting characters and humorous situations, this is further testament to Lethem's talent. His work continues to be a pleasure to read. The smoothness of his prose reminds me of Jonathan Carroll's work.

Very Good ( 8.5)

---
NECROSCOPE

Harry Keogh is a boy living in England who slowly discovers an ability to talk to the dead and to learn from them.



Boris Dragosani is a Russian working for his Government during the cold war. He also has the ability to learn the secrets of the dead.
These two become involved in a struggle to the death - and beyond.
I thoroughly enjoyed this story. I was expecting vampires galore, but they only played a small part in the overall story. The spiel on the back cover states the book is "impossible to put down" and I'd have to agree. I'm looking forward to the sequel.
Excellent and highly recommended (10)

LUMLEY, BRIAN
---
NECROSCOPE II: WAMPHYRI

This story picks up where the first left off. We see how both Russian and British agents pick up the pieces and try to make sense out of the devastation that occurred at the Château Bronnitsy. Both branches of ESP intelligence have new leaders who eventually decide it is in everyone's best interest to work together to eradicate the threat posed by vampires.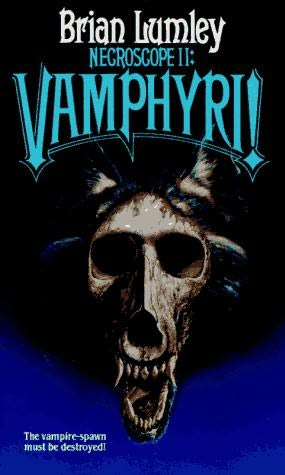 Harry Keogh is determined to discover all he can about vampires and how to stop them. He manages to get in contact with Thibor Ferenczy, the vampire who instructed Dragosani and eventually turned into a vampire. Thibor describes how he became a vampire 1000 years ago and the major events that shaped his 'life'.
A major concern of Keogh's is the appearance of a young vampire, Yulian, living in England. Thibor also had a hand/pseudopod in on Yulian's creation, but is unaware of his progress. Keogh fears that if Yulian discovers his roots, such knowledge may lead to more mayhem.
This is story no. 2 in a five part series and I was wary of the sequel letdown. I'm happy to report that this is another worthy tale which kept me riveted throughout. There's much more of the horror and gore that you'd associate with vampire tales than appeared in NECROSCOPE. I'm eager to read no. 3!
Very Good (9)
December 1999

LUMLEY, BRIAN
---
NECROSCOPE III : THE SOURCE (1989)

A massive explosion in Russia creates a link between our world and that of vampires.

Keogh has been searching for his son and ex-wife for 8 years and events in Russia give him new hope of finding them.

This book is set in the Russian complex that opened the gate between worlds and the vampire world on the other side. The origin of Lumley's vampires is revealed and we are immersed in a battle between good and evil that had me hooked from start to finish.

Excellent (9.5)

February 2007

To visit elsewhere at this site use this Navigation Bar