STE5EN'S SCIENCE FICTION and HORROR BOOK REVIEWS
To visit elsewhere at this site use this Navigation Bar
To read a review either scroll down or click on author's name
REYNOLDS, ALASTAIR
Revelation Space
Redemption Ark
Century Rain
Absolution Gap
Pushing Ice
Galactic North
House of Suns
Blue Remembered Earth
RICE, ANNE
Interview With The Vampire
The Vampire Lestat
Queen Of The Damned
Tale Of The Body Thief
Memnoch, The Devil
The Vampire Armand



RINGO, JOHN
A Hymn Before Battle







ROBERTS, ADAM
Salt

ROBINSON, KIM STANLEY
Red Mars
Green Mars
RUCKER, RUDY
Software
Wetware
RUSSELL, MARY DORIA
The Sparrow
RYMAN, GEOFF
The Child Garden
---
REVELATION SPACE (2000)

Dan Sylveste is heading an archaeological dig on the planet Resurgam, a barren planet with a small number of human settlements. He uncovers an ancient artefact of the long dead Amarantin, a bird like alien species, who don't appear to have achieved a high level of sophistication yet the artefact suggests otherwise.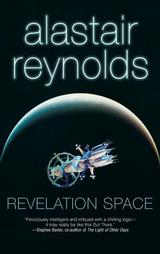 Ana Khouri is an assassin for hire on the planet of Yellowstone. The rich and bored pay her money to chase and, if they're not careful, kill them. One day Khouri is hired by a strange woman who wants her to travel off planet to kill someone who won't be expecting her.
Ilia Volyova is a senior crewmember of a spaceship whose Captain is suspended in reefersleep, or suspended animation. The Captain is a chimeric, part organic-part not, and the inorganic components are being attacked by a plague that is slowing killing him. Ilia is searching for someone who can cure the Captain and she is prepared to use any means at her disposal.
This is Reynolds first book and what a wonderful beginning for him. This is one of the best first novels I can remember reading. If you like space opera you'll love this.
Excellent (10)
January 2003

REYNOLDS, ALASTAIR
---
REDEMPTION ARK (2002)

This story picks up where REVELATION SPACE left off. Volyova and Khouri are back and are doing their best to save the planet of Resurgam from the Inhibitors, who have remained active and are up to no good.



The Conjoiners, the human faction/society that is responsible for the advanced technologies that enable star travel and more, learn of the threat posed to life by the Inhibitors. They plan on capturing the mysterious cache weapons still on board Volyova's ship.
Much of this book details the Conjoiners, who rarely rated a mention in REV SPACE. Nevil Clavain is a four hundred year old Conjoiner who has an illustrious history and is given the job of retrieving the cache weapons. He learns that things are not what they seem in Conjoiner society. Skade is a member of Conjoiner elite who oversees the operation, but appears to have a hidden agenda.
There is plenty here to keep the reader happy; space battles, mysterious benefactors, genetically tinkered hyperpigs and the threat of mankind's extinction in this gem of a story. A must read for any fan of Reynolds's previous works.
Very Good (9)
March 2003

REYNOLDS, ALASTAIR
---
CENTURY RAIN (2004)

Mankind has been banished to space after the nano-machines it seeded the Earth with ran amok, devouring all life and leaving the planet uninhabitable. This catastrophe split humanity into two camps, the Threshers who have turned their back on nanotechnology, and the Slashers who have embraced nanotechnology with a measure of caution. Hundreds of years after losing Earth, these two groups are fighting over its control.



The Threshers have recently taken control of Phobos, one of the moons of Mars. Buried within it is an ancient alien portal that can take them to a world that offers hope to mankind. The origins of the portal are a mystery, as is the hyperweb, a series of space bound portals that permit travel across the vast reaches of space.
Part murder mystery, part space opera, Century Rain is further proof of Reynolds talent which has yet to disappoint this reader.

Excellent (10)
June 2005

REYNOLDS, ALASTAIR
---
ABSOLUTION GAP (2003)

This is the third book in Reynolds Inhibitor series and once again this is a book that will not disappoint. Clavain and Scorpio are on the planet Ararat, but the threat of the Inhibitors has roused them into action after some 20 years. While war rages in local space, a mysterious capsule has landed on the planet which is destined to influence the outcome of the battle.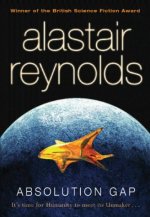 Meanwhile, the Conjoiners send Quaiche on a mission to search for alien artefacts in remote star systems and what he finds will change the rest of his life.
Very Good (9)
July 2005

REYNOLDS, ALASTAIR
---
PUSHING ICE (2005)

To tell you anything about this story would be to tell you too much. It does involve space exploration, mysterious alien artefacts and aliens, political intrigue and deception and relationships between leading female characters.



Don't read the blurb on the back of the book, just read the book.
Excellent (10)
August 2005

REYNOLDS, ALASTAIR
---
GALACTIC NORTH (2006)

This is a short story collection set in the same universe as Reynold's REVELATION SPACE etc. From the very first pages this was a joy to read. You know a short story works when you don't want it to end. This is how I felt after the first story.

If you've read any of Reynold's work you will thoroughly enjoy these stories.

Excellent (10)

June 2008


REYNOLDS, ALASTAIR
---
HOUSE OF SUNS (2008)

Set in the far future, but not part of Reynolds REVELATION SPACE universe, this is the story of a 'family' of clones that travel around the Galaxy. Millions of planetary years pass while they travel at near light speed. Civilisations rise and fall while they travel between the stars.

Every so often, members of the 'family' reunite to share experiences, but an attack occurs that threatens their future existence.

Refuges from the attack regroup but find themselves in peril and facing a greater threat that may extinguish all of mankind.

While not as good as Reynold's earlier work, this is still a good read and worth the time.

Very Good (8.5)

August 2008


REYNOLDS, ALASTAIR
---
TERMINAL WORLD (2009)

It took me quite a while to finish this book. As a result, I can't give it an excellent rating. I, however, wanted to finish it and it was worth the effort.

Set on a world where resources are scarce and people are resticted to zones which, if they leave, will result in illness and possibly death. In fact, technology in one zone may not function in another.

One inhabitant must flee the city, crossing many zones, if he is to survive.

Good (7)

October 2010


REYNOLDS, ALASTAIR
---
BLUE REMEMBERED EARTH (2012)

Set in the 22nd century, we follow the journey of Geoffrey and Sunday Akinya, grandchildren of Eunice, the founder of the family empire.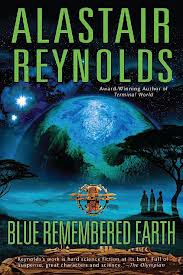 Eunice had lived in seclusion for the past 60 years in orbit about the Moon. On her death, the grandchildren find themselves following clues Eunice left behind on the Moon, Mars and the depths of the solar system.
We have space travel, a family feud, an African elephant herd, merpeople, artificial intelligence and evidence of aliens in what is a very enjoyable tale which is apparently the first in a trilogy. The ending didn't quite hit the mark, which can be a problem when the author wants to stretch out the story. It would be nice to read a book that has a start and end in the one volume.
Very Good (9)
May 2012

---
INTERVIEW WITH THE VAMPIRE

This is the book that got me reading again after a break of 10 years or so. Up until that time, all I read was the works of Issac Asimov - who I've always enjoyed.



Rice's style made the story of a vampire into something I would never have believed. My only previous vampire experiences came by way of old movies on the idiot box. Thank you Anne Rice.
Excellent and highly recommended. (10)

RICE, ANNE
---
THE VAMPIRE LESTAT

As good as,if not better than,the original. This tells the story of Lestat from human to vampire. Explains the origins and history of vampires as according to A.Rice. A page turner.

Excellent and highly recommended. (10)


RICE, ANNE
---
QUEEN OF THE DAMNED

Details the history/origins of vampires according to Rice. Not up to the standard of the first two instalments but well worth a read.

Good (7)


RICE, ANNE
---
TALE OF THE BODY THIEF

This story deals moreso with body-switching than it does with vampirism. Just as Rice made you feel what it was to become a vampire in Interview, in this tale you get the inside story on inhabiting a strange body.

Very Good (8.5)


RICE, ANNE
---
MEMNOCH,THE DEVIL

Not at all what I expected. Rice tells a story about God and the Devil and the Devil's attempt to get Lestat to join him in his pursuits. This was an enjoyable tale, but not as good as the first two.

Good (7.5)


RICE, ANNE
---
THE VAMPIRE ARMAND

After MEMNOCH, I was hoping for a full-bodied return to Anne Rice's vampires. I still rank the first two volumes of the vampire chronicles amongst my favourites. Unfortunately, after this addition I doubt I'll approach any future instalments with enthusiasm.

I can't comment on the second half of the story as the first was so slow and uninspiring I had to give up and move on to something more entertaining. Armand tells us the story of his kidnapping as a child and eventual transformation into a vampire at the hands of Marius. Much of the story centred on the love shared between these two characters which became very tedious after a while.

Disappointing (4)

---
A HYMN BEFORE BATTLE (2000)

The Galactic Federation is under attack from the evil Posleen, an aggressive alien race that has already over-run many inhabited planets. The members of the Federation are docile and not up to the fight and so they enlist the support of Earth, whose dominant species are not afraid of a fight.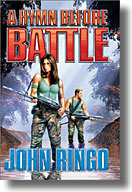 Michael O'Neal is brought out of retirement to lead the ACS, troops in alien armour that provide superior capabilities. He and his forces battle the Posleen on the planet Diess.
I held high expectations for this book. A SF bookshop owner who has given me some good tips in the past recommended it. Unfortunately it didn't quite capture me the way I had hoped. The use of acronyms was very annoying. I found myself looking up their meaning in previous pages, sometimes to no avail. I've always hated the overuse of acronyms in my profession and having to read them was not a pleasant experience. Ringo's military background is evident and in this story it tended to interfere with the overall flow of events.
The book did entertain in parts, especially the confrontation on Diess which occupies the last third of the book. After reading this one I'm not too sure about reading the sequels. Perhaps if they turn up in the local library?
Good (7)
June 2003

---
SALT (2000)

A number of religious groups fly a joint mission to colonise the planet Salt. When they arrive conditions are harsher than they were led to believe. Salt is a barren, salt encrusted world with little water and no protection from the sun's radiation.

Two of the groups are deeply divided in their philosophies. One is a very ordered hierarchy while the other is an individual, anarchistic settlement. They get caught up in a dispute over the 'ownership' of a group of children fathered by one group and mothered by the other.

I had read some promising reviews of this and other novels by Roberts, but my experience was less than satisfying. It got bogged down in the comparison of the different settlements and I would have given up sooner if it were not for some interest generated once conflict arose. I couldn't finish this effort and have no plans to read anything more by Roberts as a result.

Average(4)

February 2004


ROBINSON, KIM STANLEY
---
RED MARS

The establishment of the first colonies on Mars. The images painted by Robinson of the surface of the red planet are brilliant. Political intrigue and deception are weaved into a story of mans struggle in and against hostile conditions. Nebula winner.

Excellent (9.5)


Tribute site mars.deltos.com/


ROBINSON, KIM STANLEY
---
GREEN MARS

The previous story impressed me enough to give this sequel a go. Unfortunately, it didn't make the grade. Both novels are quite lengthy and this one got a little tired. I usually finish most stories I begin, but not this one. Hugo winner.

Average (4)


---
SOFTWARE

Cobb Anderson built the "boppers" - robots that over time evolved into autonomous beings. They live on the moon with only a handful of humans. The boppers offer Anderson immortality by taking his software - memory, feelings, 'soul' - and storing it into new hardware.

Sta-Hi (pronounced stay high) is the son of policeman Mooney. His life is a mess and it only gets more complicated when he becomes involved with Cobb and the boppers.

This is only a short novel, some 160 pages, but it is an enjoyable story of robots and their struggle to evolve. The boppers themselves hate Asimov's 3 Laws of Robotics and have turned them around placing their own well being ahead of all else.

Very Good (8.5)

January 2000


Author site www.mathcs.sjsu.edu/faculty/rucker/rucker.html


RUCKER, RUDY
---
WETWARE (1988)

Following on 10 years from SOFTWARE, the boppers have been evicted from their city on the moon and now live deep under its surface. Boppers and humans now share the moon, but not harmoniously. The boppers occasionally attack the human population with small bombs, but humans won't wipe them out because of the advanced technologies they provide.

The boppers have evolved and some now wish to return to Earth, but as meatbops, bopper software embedded at the cellular level in organic, human form. In this form they hope to infiltrate human society and take mankind to its next level of evolution.

Cobb Anderson and Stahn Mooney (formerly Sta-Hi) are back in another very entertaining and quick read. If you enjoyed SOFTWARE then you won't be disappointed with this story and I'm looking forward to the next instalment, FREEWARE.

Very Good (8.5)

April 2003


RUSSELL, MARY DORIA
---
THE SPARROW

A radio signal from an alien planet is received on Earth. A group of Jesuits and friends lead a mission to the planet in order to make contact. Only one of these is to return to Earth, Father Emilio Sandoz and he returns in a very distressed state.

His story is retold so as to slowly reveal the trauma suffered at the 'hands' of the Jana'ata, dominant species of the planet Rakhat.

I had to wait a long time before my local library was able to get this book. I nearly bought it a while before this, but I wasn't sure if it would be the type of book I'd want to keep in my personal library. I'm glad I waited. The story had potential but failed to reach the heights I enjoy. I found it difficult to accept that the group that went on the mission would have been chosen in real life. Things improved once the humans reached the planet of Rakhat and encountered alien life. Prior to this, the story was reminiscent of the movie CONTACT based on Carl Sagan's novel. A lot of time is spent on character development and study. Not enough action to keep me happy I'm afraid.

Average (5.5)
---
THE CHILD GARDEN (1999)

After reading some 20% of this winner of the Arthur C. Clarke award, I decided to put it aside and move on. If the story picks up after its slow start, feel free to let me know and I might(?) get back to it.

Milena lives in a future London where the average life span has fallen to 35 years due to some genetic tinkering that cured cancer. Most people are infected with viruses that teach the young all they need to mature faster and make the most of their short lives. Milena hates these viruses and believes that she has escaped some of their affect.

She meets Rolfa, a genetically engineered person who looks like a polar bear. Rolfa and her kind are immune to the viruses.

What happens next is a mystery to me. As I said earlier, let me know if the story is worth completing.

Average (5)

February 2002


To visit elsewhere at this site use this Navigation Bar