STE5EN'S SCIENCE FICTION and HORROR BOOK REVIEWS
To visit elsewhere at this site use this Navigation Bar
To read a review either scroll down or click on author's name
WATSON, IAN
The Embedding
Chekov's Journey
Oracle
The Jonah Kit
WEBER, DAVID
On Basilisk Station
The Apocalypse Troll


WELLS, H.G.
The Time Machine



WILHELM, KATE
Where Late The Sweet Birds Sang

WILLIAMS, TAD
Otherland
Otherland Vol 2
WILLIAMS, SEAN & DIX, SHANE,
The Prodigal Sun
The Dying Light
WILLIAMSON, JACK
Mazeway






WILLIS, CONNIE
To Say Nothing Of The Dog
Passage





WILSON, ROBERT CHARLES
Mysterium
Darwinia
The Divide
Bios
The Chronoliths
Blind Lake
Spin
WATSON, IAN
---
THE EMBEDDING

Chris Sole works in a children's hospital in Africa that has 3 rooms hidden from the public in which secret Government sponsored research is carried out on children isolated from the outside world.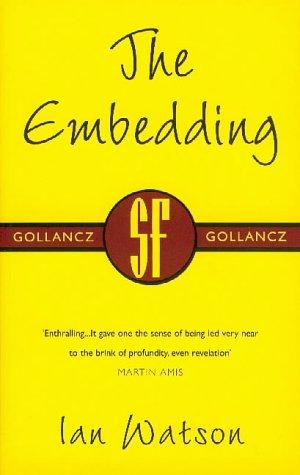 An acquaintance of Chris', Pierre, is an anthropologist studying a tribe of South American Indians, the Xemahoa. They are about to lose all in a major dam construction along the Amazon River.
An alien spacecraft lands in the Nevada desert and its inhabitants, the Sp'thra wish to collect information regarding the language of a variety of Earth cultures. In exchange they wish to trade some of their knowledge of space flight as well as information regarding nearby habitable worlds.
An always entertaining and thought provoking story that mixes anthropology, linguistics and more. There was one major incident in the story that did not sit well with me and I was a little unsure about the ending. Overall I would say this is a story well worth reading and Watson is an author whose work I shall seek out.
Excellent (9.5)

WATSON, IAN
---
CHEKOV'S JOURNEY

A Russian film crew is trying to make a picture about Anton Chekov, a late nineteenth century writer. They employ the use of a hypnotist who will use the subconscious memory of a look-a-like actor, Mikhail, to better portray the life of Chekov.

While under hypnosis, Mikhail recalls incidents in the past that don't quite agree with the historical record. The central 'mistake' is the Siberian explosion of 1908 which devastated a large area and remains a mystery seems to have occurred in 1888 according to Mikhail's 'memory'. Another problem is that Mikhail begins to recall certain events a hundred years in the future involving a Russian spaceship about to depart for the cosmos.

The film crew encounters a further problem when these 'memories' began to have an effect on the present.

Another enjoyable tale by Watson. He weaves the three parts of his story together very well and continues to entertain to the last page.

Very Good (8)

WATSON, IAN
---
ORACLE

A Roman centurion, Marcus, is transported through time from AD60 to the late twentieth century. He meets Tom Ryan, who with his sister Mary, try to look after him and protect him from the unknown.

Many years before, Mary had known Seamus Kelly who was a neighbour in their Irish homeland. Seamus has recently been released from prison for various IRA terrorist activities. He pays Mary a surprise visit to pass on some information surrounding the death of her parents on a plane that exploded some years prior.

British Intelligence catches wind of the arrival of Marcus and keeps its eye on events in order to maintain secrecy for its Oracle project. This is a top-secret experiment involving time-travel. When they catch wind of the Ryan's 'connections' with the IRA they begin to see more than a little trouble in store.

More a study of the behaviour of terrorists and those that pursue them than a science fiction story. Each side is as evil as the other, both being able to justify to themselves any crime they commit. While I found the read enjoyable (and I tried hard to like it more since I am a fan of the author), this is not quite what I want when I sit down to read sf.

Good (6)

WATSON, IAN
---
THE JONAH KIT (1975)

A six-year-old boy, Georgi Nilin, has escaped to Japan from Communist Russia and seeks asylum in the USA. It is uncertain if the boy suffers from autism or has been 'tampered' with by the Russians. He seems to possess the memories of a deceased cosmonaut. American scientists suspect the Russians are trying to imprint the mind of one person onto another.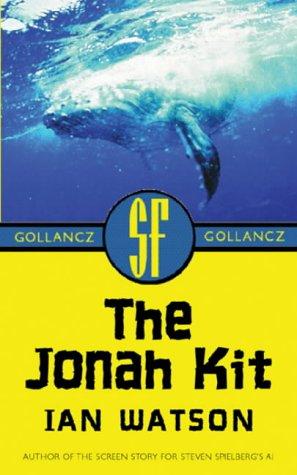 Paul Hammond is trying to view the dawn of our Universe. He and his team of scientists are using powerful telescopes to scan the skies for evidence of our origins. When he achieves success, his conclusions have serious consequences for humanity.
As well as experimenting with human subjects, the Russians have tried to imprint the mind of a man onto that of a Sperm whale. This whale then struggles to come to terms with conflicting urges and foreign memories.
Toward the end of the novel, both storylines converge resulting in a dramatic conclusion.
This story began well. The depiction of a whale's thoughts and it's conflict with human memories was certainly unique, but since it dealt with an alien thought process, it was a little difficult to follow at times. As with other works of Watson's I've read, there are a lot of interesting events and ideas throughout. A little dated in respect to the current world political situation, it nonetheless entertained to the end.
Good (7)
June 2000
WEBER, DAVID
---
ON BASILISK STATION (1993)

Honor Harrington has just been made Captain of HMS Fearless. Due to no fault of her own, her performance in a series of war games is less than perfect and as a result she gets posted to Basilisk Station. Her responsibility there is to watch over wormhole traffic.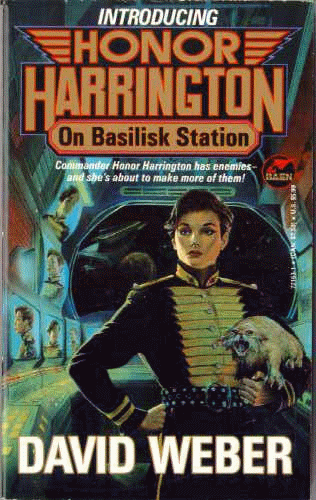 This story came as a very pleasant surprise. It reminded me of the best of Bujold's work, Military SF with plenty of action and intrigue. Honor is a great character, and unlike Bujold's Miles Vorkosigan, all of her actions and manipulations remain plausible. I am looking forward to reading the next story in the Honor series.
Excellent (10)
January 2001

WEBER, DAVID
---
THE APOCALYPSE TROLL (1999)

In the 25th Century, Colonel Ludmilla Leonovna fights for the Terran Marines against the alien race known as the Kangas. The Kangas are a violent race bent on destroying any species not their own. Since encountering humanity hundreds of years ago, the Kangas have had a hard time defeating them and have had to develop cyborgs, the Trolls, to help in the fight.



In a last desperate attempt at victory, the Kangas decide to travel back in time to an earlier stage in Earth's history and wipe out humanity.
What follows is the story of Ludmilla attempting, with the help of early 21st Century mankind, to stop the plans of a rogue Troll who, for the first time in his life, tastes freedom and power.
This book is not a part of Weber's Honor Harrington series. It is, however, very entertaining and like the HH series, is very much in the military sf genre.
Very Good (9)
February 2003

WELLS, H.G.
---
THE TIME MACHINE

When Stephen Baxter's TIME SHIPS came out I thought I'd better read the original before tackling the sequel. I was very pleasantly surprised. The story was not what I had expected. A time traveller visits the far future in which two types of human coexist on the Earth.

Very Good (8)


WILHELM, KATE
---
WHERE LATE THE SWEET BIRDS SANG

Reminded me of some of John Wyndham's better work such as THE CHRYSALIDS. Humanity has been reduced to a small community which survives by creating clones. Singletons are frowned upon in the society as is invention and new ideas. Hugo winner.

Very Good (8)

---
OTHERLAND

Renie Sulaweyo is an instructor in VR technology at Durban Area Four Polytechnic, South Africa. Her little brother Stephen spends much of his spare time on the Net visiting the abundant virtual worlds available. When he visits a site without authorisation, he and his friends find themselves in trouble and require Renie's assistance to help them escape. Things go from bad to worse when Stephen falls victim to an 'illness' that seems to be affecting many of the children who spend long hours on the Net.


Renie, with the assistance of !Xabbu, one of her adult students who happens to be one of the last African Bushmen, set out to discover the cause of Stephen's condition and bring to justice those responsible.
At 940 or so pages, this is the first in a series of four books. I'd read some encouraging reviews, in particular at Science Fiction Weekly, but was unsure about reading it given that Williams is a writer of fantasy and that it may become overdrawn and longwinded due to the size of the collection.
I'm happy to say that this first book is well worth the effort. It captured my imagination and kept me thoroughly entertained from start to finish. While a good portion of the book is spent visiting different virtual settings, Williams spends time developing his characters and plot in both the real and virtual arenas. I'm looking forward to the next book.
Very Good (9)
September 2000
Author site www.tadwilliams.com

WILLIAMS, TAD
---
OTHERLAND Volume 2: River of Blue Fire (1998)

This time around we spend a lot of time following Renie, !Xabbu, Orlando and Fredericks as they travel through a myriad of worlds in Otherland. The story follows directly from the last one, in fact the author states that all 4 volumes are not separate books but part of one large story. I enjoyed the story once again, but as I reached the end I was getting a little tired of the whole thing.

Unfortunately I don't think I'll be investing much more time on the concluding volumes. I'm only half way through and there's still no light at the end of the tunnel. By this time I would have liked to have seen some of the plot lines resolved. Like the characters in the story, I was getting tired of moving from one simulation to the next, facing similar difficulties and in the end being no closer to solving their problems.

Good (7.5)

October 2000

---
PRODIGAL SUN (EVERGENCE 1) (1999)

Morgan Roche is an Intelligence officer for the Commonwealth of Empires and her current assignment is to deliver the latest in artificial intelligence to her superiors. The AI, a briefcase referred to as "Box", is strapped to her wrist and she is able to communicate with it via implants. Roche's superiors, in an effort to avoid detection, sent her on an indirect course that takes her near a system that is in some conflict with COE.



Roche's ship is carrying criminals to a penal colony on Sciacca's World. Enroute the ship picked up a capsule floating in space of unknown origin and purpose. The occupant of the capsule has been examined and Roche wants the opportunity to investigate further but is denied by the ship's captain.
When Roche's ship is threatened, a strange man appears at her door telling her that this is where he was told to come. Together they attempt to escape before the ship is destroyed.
This is the first in a trilogy that promises to provide plenty of entertainment for the reader. Those after the Box pursue Roche and her party constantly. They move from one difficult situation to another, providing never a dull moment. If you like action in your SF you will get it here.
Excellent (10)
October 2002

---
THE DYING LIGHT(EVERGENCE 2) (2000)

Morgan Roche and her crew are looking for a second clone warrior. The first, Cane, turned out to be friendly and has aligned himself with Morgan. Their search takes them to a star system that seems to have disappeared. They fear this new clone warrior is responsible or involved in some way.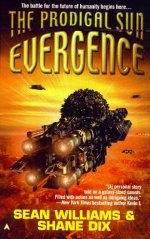 This second instalment in the Evergence trilogy maintains the standard set in the first book. The first book was planet bound whereas this one is set in space. There is little development of Cane in this outing, in fact, he rarely gets a mention, as is the case for Maii, the telepath/empath who assisted Morgan in the first book. The focus is on Morgan and her attempts to handle her situation. Once again the story is filled with action and mystery and while some questions seem to have been answered, the third book promises much. I've recently read a few less than inspiring books, but this effort reignites my passion for reading. Winner of the 2001 Ditmar Award for best novel.
Excellent (10)
October 2003

---
MAZEWAY

Earth's cities were suspended in orbit in what was known as the Skyweb. When a gigantic alien creature tore it down, humankind was left in a desolate state fighting to survive on the planet's surface. Roxanne is a young girl living in the wilds of Africa, who shares her father's dream of one day restoring the Skyweb.

Benn Dain is one of a small number of humans who live in the halo, a number of space habitats/worlds occupied by the Eldren. The Eldren are a collection of advanced alien races that live in peace without the need for violence. Benn wants to have humankind accepted into this community and to do so he must play the game of Blade and Stone.

Roxanne and Benn find themselves in the game along with a variety of aliens - friendly and malevolent. As the game proceeds, Benn finds himself working 'with' each of the other contestants trying to complete the tasks set for them. At the same time, Benn is aware of an unknown threat to the Eldren that seems to stem from some of his fellow contestants.

While I can't find much to criticise, I also can't find much to praise. The encounters in the game were not exciting enough to keep me enthused for long periods. The game tasks all involved finding your way from point A to point B. This was a story that had me thinking about my next book far too many times.

Average (5.5)

January 2000

---
TO SAY NOTHING OF THE DOG

I'll say at the start, I only persisted with this novel because it won a Hugo and I wanted to determine why. Mostly set in Victorian England around 1888, it reads more like an historical piece than what I would call science fiction.

The central characters of Ned Henry and Verity Kindle are time travellers from the mid-Twenty First Century. After a short while it was discovered that time travel was not profiting scientifically and so it was turned over to wealthy entrepreneurs who would invest funds in order to pursue their pet projects. Ned and Verity are involved in the restoration of Coventry Cathedral, which was destroyed during World War II.

When an object is brought forward in time, scientists are concerned that events will alter so much so that WWII would be lost to the Nazis. Ned and Verity travel back to 1888 and try to influence the lives of a small group of people whose relationships seem to have important bearing on the future.

There were times that I was tempted to put this book aside, but I persisted. The story is slightly amusing in parts and I did look forward to discovering how all of the problems were eventually solved. If you are a hard sf fan or like action and adventure when you read then you wont find it here. Definitely not the sort of book I'd go out of my way to read.

Good (6.5)

January 2000


WILLIS, CONNIE
---
PASSAGE (2001)

Dr. Joanna Lander is researching near death experiences, NDE's. She visits patients who have died, but have been resuscitated and records their accounts of their experience. She teams up with Dr. Wright who is able to induce NDE's in his volunteers via chemical means.



When Dr. Wright's volunteers run low, Joanna opts to undergo the procedure. She becomes obsessed with trying to unravel the mystery and meaning of her experience.
Like some of the characters in this book, the story often rambles annoyingly on and on where the reader reaches a point when prepared to skip entire passages. Like the central character who tried to avoid particular secondary characters as they told her stories that went nowhere and provided little useful data, I felt the same about much of this story. Many a page could have been left out and not make a difference to the overall story. The story would have been much more palatable at half the length.
This book made the nominees for this year's Hugo's. I'm sure there are many other books more worthy of this honor.
Average (6)
December 2002

---
MYSTERIUM (1994)

A strange object is found in Turkey and is shipped to North America. It eventually ends up in a research facility just outside the town of Two Rivers, Michigan. Those who get close to the object fair poorly.

The town of Two Rivers is inhabited by, among others, Dex Graham, a local school teacher surviving a personal tragedy; Clifford Stockton, an inquisitive boy living with a less than perfect mother; Howard Poole, nephew of a Nobel prize-winning physicist who has recently been employed by the new research lab. When something goes wrong at the lab, the town is mysteriously transported to a parallel Earth where authorities are less than kind to the differences evident in the people of Two Rivers.

This winner of the Philip K. Dick Award is the first parallel / alternative world story that I have read and I must say that I enjoyed this one immensely. The characters were well drawn and the suspense maintained throughout the entire tale. I shall be on the lookout for more of Wilson's work.

Very Good (9)

February 2000


Author site www.robertcharleswilson.com


WILSON, ROBERT CHARLES
---
DARWINIA (1998)

Guilford Law was born in 1898. In March of 1912, Europe was transformed overnight into a strangle land devoid of mankind and inhabited by alien flora and fauna. Most people believe it to be an example of divine intervention, a miracle of biblical proportions. When he reaches his twenties, Guildford joins a small team that plans to travel into the unknown heart of Darwinia.

Initially I thought this book was going to be another alternative world story, similar perhaps to MYSTERIUM. After around 100 pages or so, some strange things started happening and the story took an unexpected shift. I won't say any more, I don't want to ruin your own joy of discovery.

This book was nominated for the 1998 Hugo award, deservedly so, but lost out to Connie Willis' TO SAY NOTHING OF THE DOG. My second vote would have gone to Wilson, the first to Sawyer for FACTORING HUMANITY.

Excellent and highly recommended (10)

November 2000


WILSON, ROBERT CHARLES
---
THE DIVIDE (1990)

John Shaw was experimented on while still growing in his mother's womb. As a result, he has abilities beyond those of humanity. To blend in with society, he learned as a child to become someone else who was less threatening. This was how Benjamin came to be.

As an adult, John/Benjamin has reached a point where he is struggling for the possession of his body. Dr. Kyriakides, the man responsible for the initial experiments, his assistant Susan and Benjamin's girlfriend, Amelie, attempt to help John cope with his sickness.

More fiction than science fiction I'm afraid. This story pales alongside Wilson's later works, MYSTERIUM and DARWINIA. I only persisted out of loyalty and thankfully it was only 250 pages long.

Good (6)

December 2000


WILSON, ROBERT CHARLES
---
BIOS (1999)

Zoe Fisher has been cloned from genetic stock first used many years ago to populate the Kuiper belt. She has been bred to handle solitude. Unknown to her, she has some other special 'modifications' that their designers hope will enable her to survive on Isis. Isis is a newly discovered world rich in life, but life toxic to humans. Zoe is to walk the surface of the planet in a suit designed just for her.

The story builds up to a very exciting climax which had me reading it 'til late at night. Wilson continues to impress me and this story is dissimilar to his other works that I have read. This tale is set in outer space and has more science in it than has been the case. The nature of life on Isis is slowly revealed and the efforts of the humans stationed on or above the planet to keep death at bay will have you on the edge of your seat. Not a long read at 218 pages, but one worth the effort.

Very Good (9.5)

(August 2001)


WILSON, ROBERT CHARLES
---
THE CHRONOLITHS (2001)

This book was one of my most anticipated for the year. It was at the top of my birthday list and when it didn't show up on the day, I rushed out and bought it myself. Perhaps that was part of the problem. I'd built my expectations up so highly that it would have been difficult for any book to reach them, perhaps.



Scott, his wife and young daughter are living in Thailand. Scott has just finished a contract and decides to stay for an extended holiday. His relationship with his wife is very strained and when their daughter becomes very ill and Scott is nowhere to be found, things go from bad to worse.
Scott and his friend Hitch have stumbled upon the first of a series of arrivals that threaten the stability of the planet. A large, pillar-like monolith has appeared from nowhere and Scott's life becomes linked to the phenomenon known as the Chronoliths.
While not a bad book, THE CHRONOLITHS in my opinion doesn't reach the heights of Wilson's DARWINIA or BIOS. I kept hoping for more information on the Chronoliths and their origins and while this was somewhat explained toward the story's conclusion, it didn't quite do it for me.
Good (7.5)
October 2002

WILSON, ROBERT CHARLES
---
BLIND LAKE (2003)

Blind Lake is a top-secret research facility that is using quantum computers to observe the far reaches of our Galaxy using a technique that is beyond the understanding of all who work there. Some believe that the images produced are nothing more than the dreams of intelligent machines. The current focus at Blind Lake is a strange being nicknamed the lobster. The quantum computers have 'him' under surveillance day and night.

Without warning the facility is cut off from the outside world. No one may enter nor leave and no explanation is provided. It is thought that a catastrophe may have occurred at a similar nearby facility scaring the authorities into a lockdown in order to avoid a reoccurrence.

This story took a while to get going and I did think about giving up on it. However, I did persist, given my liking for the author, and things got to the point where I couldn't wait to find out what was happening and going to happen.

Very Good (9.5)

May 2005


WILSON, ROBERT CHARLES
---
SPIN (2005)

Story told in two parts, one present the other near future.

Tyler Dupree grew up with twins Jason and Diane Lawton. One day the stars went out. The Earth was enclosed in a shell which slowed time on Earth relative to the Universe outside. Panic set in, people fearing the end of the world. Religious cults formed that anticipated the end of all things.

Tyler , by association with Jason, finds himself at the heart of the mystery.

This book took the longest time to read of any that I can remember. I enjoyed the story, but didn't find myself eager to continue.

Hugo winner 2006

Good (7)

October 2008
To visit elsewhere at this site use this Navigation Bar