STE5EN'S SCIENCE FICTION and HORROR BOOK REVIEWS
To visit elsewhere at this site use this Navigation Bar
To read a review either scroll down or click on author's name
SIMMONS, DAN
Hyperion
The Fall Of Hyperion
Endymion
The Rise Of Endymion
Lovedeath

Song Of Kali
Carrion Comfort
Summer Of Night
Ilium
Olympos
---
HYPERION
Winner of the Hugo and other awards. This book was the first I read of Simmons and it turned me into a fan. There are sections of the story that are full of excitement and others that can bring you to tears.



The story revolves around the experiences of some fellow travellers and the encounters with a creature known as the Shrike. The Shrike is somehow linked to a collection of tombs, the Time Tombs, which are thought to have been sent back in time for some unknown purpose.
Excellent and highly recommended. (10)

Tribute sites
www.levity.com/corduroy/simmons.htm
---
THE FALL OF HYPERION
I could't wait to find out what happened and so read this one immediately. I was not disappointed. This is an excellent sequel. Simmons does like his poetry.
Excellent and highly recommended. (10)

---
ENDYMION
Raul Endymion, a man of many skills, is hired by Martin Silenus to help save Aenea, the daughter of Brawne Lamia, who is about to exit the time tombs some 270 years after entering them.
The Pax, a military and religious ruling body, is very interested in capturing Aenea, as they believe she poses a threat to their domination of humanity.
The first 200 pages moved along at a thrilling pace. These pages deal with the return and rescue of Aenea. After this we are taken along a journey to a number of planets where Aenea, Endymion and the android Bettik encounter various obstacles. Apart from an uninteresting description of hand held weapons somewhere after the first 200 pages, the story entertains and excites and builds to a thrilling climax.
Do not expect it to answer your questions after having read Hyperion and The Fall of Hyperion. The first time I read Endymion I made this mistake. I read it again so as to ready myself for The Rise Of Endymion (and to write a review) and have found it to be most enjoyable.
Very Good (9)

---
THE RISE OF ENDYMION
Began slower than its predecessor but got into gear after the first one hundred pages. Picks up where Endymion left off. The relationship between Raul and Aenea is developed further as they travel throughout the Galaxy avoiding the Pax and spreading 'wisdom'. A lot of the cast of the previous three stories make an appearance helping to put all the pieces of the puzzle together. The role of the Core, the origins of the Shrike, these and more are explained by the end of the book.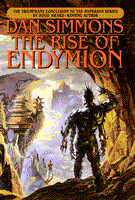 It lacked a lot of the excitement of the previous books. This is not to say it was without the occasional thrill. It remained entertaining although a little long. The ending was very well handled and seemed to tie all of the loose threads together, delivering a very satisfying conclusion.
Very Good (8.5)





---
LOVEDEATH
Collection of 5 novellas. Story 1 is about a man who sees death lurking around every corner. An excellent story that sets the mood for the following. This first story has little or no horror,whereas those that follow introduced more gruesome characters and situations.Story 2 centres around vampires in Thailand with an AIDS link,# 3 deals with American Indian folklore - I loved the swipe at Kevin Costner.# 4 is set in the near future and deals with rampant drug usage and its effects and # 5 depicts a poets view of World War 1. I loved them all.
Excellent and highly recommended. (9.5)

---
SONG OF KALI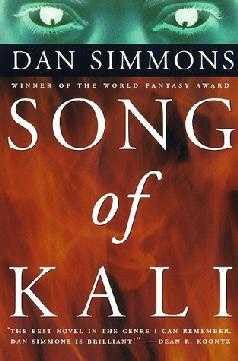 A family travels to Calcutta in search of a poet who some say has returned from the dead.
Excellent description of life in Calcutta and the efforts of the central character to solve several mysteries. Winner of the International Fantasy Award and Simmons first novel.
Very Good (8.5)



---
CARRION COMFORT (1989)
Saul Laski is a survivor of the Holocaust. Not only did he suffer at the hands of the Nazi's, he also encountered evil in the form of a "mind vampire". The Oberst, as Saul calls him, is able to control others with his thoughts. Saul vows to survive the war and to one day seek out the Oberst and kill him.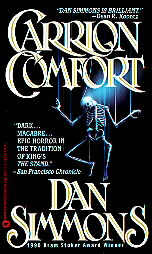 It is now December 1980 and three very old 'friends' get together to play. Their play involves Using others the same way that Saul's Oberst had during the war. Melanie Fuller decides that she has had enough and wishes to retire from the game. This decision has disastrous consequences for the three, as well as a number of innocents.
Elsewhere in the country, a number of very important and powerful men, each with the Ability, decide to involve themselves with the lives of the three old "vampires".
This is a big book, both in its size and story. A number of different groups set out to manipulate or destroy each other. Certain central characters do not make it to the end of the story and while this is 'sad', it does add to the tension. You never know who is safe.
Excellent (9.5)
May 2000

---
SUMMER OF NIGHT (1991)
School's out for the summer. In the small town of Elm Haven, the school is known as Old Central and it is closing its doors for the last time. For a small group of the town's boys the school seems to be at the centre of a number of mysterious events. A child's disappearance, an unknown soldier and a ghostly apparition are all linked to Old Central.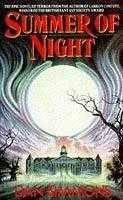 The boys begin investigating for themselves and soon find their lives threatened by a strange and evil force.
This story took a long time (some 300 of its 634 pages) to spark my interest and usually I'd have given up long before that. I've enjoyed Simmons work so much in the past that I kept on hoping and waiting for things to improve. Most of these 300 pages were spent setting the scene of a child's life in the early sixties. Eventually the story hit its horror straps and Simmons isn't afraid to kill off his central characters. Monsters and the living dead make an appearance and bring life to the story.
Winner of the Locus Award for Best Horror and a Bram Stoker finalist, this book was worth the effort and if not for the slow start, would have rated as one of my favourites.
Very Good (8)
May 2003

---
ILIUM (2003)
In the far future, Earth is inhabited by a small population of 'old-style' humans who have little knowledge of their past. Some 1500 years ago, post humans left the planet for places unknown, but have ensured those that remain will be cared for. After 100 years of life, each 'old style' will join the posts off-planet and Earth's population is restricted to a manageable number.



During mankind's exploration of the solar system, sentient robots were sent to the outer planets and after many years have become self sufficient. When unusually high levels of quantum activity is noticed occurring on Mars, a small team of robots is sent to investigate and ,if necessary, stop this activity as it may potentially destroy large sections of the solar system.
The Greek gods of Olympus are watching over the battle of Troy and to help in this they have reconstituted scholars from late 20th Century Earth. These scholars have been given special equipment that helps to conceal their true identities from the ancients and to travel between Earth and Olympus. One scholar, Hockenberry, an expert on Homer's Iliad, which details the battle, has been given special powers by one god so that he may murder another.
This was another Simmons effort that I found difficult to put down. The description of battle scenes around Troy were particularly gruesome and realistic. The three storylines came together beautifully at the end of the book. Simmons did overdo the naming of all warriors and their lineage at times and I found myself skimming these parts. I'm straight onto the sequel, OLYMPOS.
Excellent (10)
February 2008

---
OLYMPOS (2005)
This is a very good conclusion to the story begun in ILIUM. In this outing we see all out war between the gods and a voyage back to Earth to try to save humanity. If you've read ILIUM, you should read this story.


Very Good(9)
April 2008

To visit elsewhere at this site use this Navigation Bar